The age of silos is over. The modern company is on a quest for agility and innovation. And although innovation is traditionally the domain of R&D departments, things have changed over recent years. Increasingly, major groups (led by Microsoft, Google, and others) have grasped the importance of adopting a more diverse approach. And so they have opted for an open innovation approach, leveraging all of their employees as well as external communities, to help organizations innovate.
In this article, we dive into the history of open innovation and how it has developed over time, as well as key advantages, challenges, and models to consider. After all, being informed about the opportunities and limitations of open innovation is an important step to leveraging its potential.
Definition of open innovation
Open innovation is a business strategy that opens up their innovation practice to stakeholders beyond the original team of research & development employees. It is based on an assumption that knowledge, expertise and ideas can be sourced from external sources, leading to a competitive advantage. 
The term "open innovation" was only first used in 2003 in a book published by Henry Chesbrough. But the principles on which the concept is based have already proven their worth, long before the start of the 21st century. By appealing to collective intelligence and creating meeting places, the foundations of open innovation were created ages ago. Without knowing it, this opened the door to a new model of innovation, one which is currently booming thanks to the internet and new technologies.
What is open innovation throughout history
1714: the first open innovation challenge
The 18th century was a period of great discovery. Columbus had already discovered America, but a major problem remained. Methods to calculate longitude while at sea remained very crude, despite frantic research by the world's greatest minds. Determined to bring these tragedies to an end, the United Kingdom launched what was a revolutionary initiative for the time: the Longitude Act. The law promised a reward of £20,000 to whoever could develop a reliable method of calculating longitude to an accuracy of 0.5 degrees. Clockmaker John Harrison achieved such impressive results, that he then spent 31 years carrying out research in collaboration with the British government, ultimately achieving the necessary accuracy and creating the first marine chronometer, which is still used today. Open innovation and crowdsourcing were born.
World exhibitions: the first business development accelerators
The very first world exhibition was organized in London in 1851. The aim? To bring together stakeholders from across the whole world to show the public the very best in innovation. The event was held as a competition, and the best inventions won medals that gave the winning companies both credibility and visibility. Winning meant certain fortune.
Accelerating business creation and development
As perfect meeting spaces, these events facilitated collaboration between exhibitors and promoted technical progress. World exhibitions acted as incredible accelerators for company development. The ice machine exhibited by the company Raoul Pictet during the 1878 World Exhibition in Paris is the perfect illustration. Following this event, the Compagnie des Glacières de la Seine ice company asked to use the machine's revolutionary process. Today, the company is known as Picard and is the leading frozen food supermarket in France.
Collaboration between major groups and startups, 1800-style
Why are we comparing these exhibitions to accelerators? Because in just a few days, it was possible to discover every invention in a given sector and to meet all the people involved. Small and large groups from all over the world finally had the chance to meet up. From then on, it became easier to forge collaborative partnerships and to innovate quickly and less conventionally.
Advantages of open innovation
Successful open innovation comes with a variety of advantages that companies need to stay competitive in today's market. And corporate innovation efforts are not exclusive to innovation leaders whose objective it is to innovate business models and develop new products and services. With today's innovation management tools, teams throughout the organization are capable of leveraging internal and external sources to gather ideas and find solutions.
Many companies that have adopted this approach and innovate effectively, experience these advantages:
Increased access to talent and ideas
Knowledge today is widely distributed. By opening up innovation to ecosystems beyond the usual internal R&D teams, you'll find that there's a world of talent and ideas you've not tapped into. Internally, employees from other departments (e.g. customer-facing teams) hold knowledge and perspectives that are yet to be discovered. Externally, there are groups like customers, suppliers, and other successful companies that can identify pain points, offer solutions and become partners.
Faster time-to-market
Collaborating with external partners, like startups, can accelerate the process of innovation. Many external partners will have developed niche solutions that are ready to be deployed. This reduces the time that would otherwise have been spent on developing the same solution internally, as such slowing down the deployment of your best ideas.
Competitive edge
The only way to keep up with the market is to anticipate where it's going and be ready to act and serve whenever things change. Open innovation helps companies stay competitive as it creates access to the latest technologies and industry trends. Collaborating with partners, customers, and other companies provides such important insights.
Reduce costs
Exchanging resources, knowledge, and expertise reduces time spent on topics and processes otherwise handled internally and often from scratch. Additionally, as the innovation process is accelerated, reduced time spent on projects often leads to cost savings as well. Depending on the organization, one can reveal, develop, and test-bed multiple ideas simultaneously. When successful, open innovation creates more revenue streams. In comparison, internal teams without access to this process have limited capability and would have to be more selective with their prioritization.
Lowered risk
Open innovation involves a certain degree of risk. Yet, companies reduce and share risk by collaborating with others. External parties' involvement in your innovation efforts means divided costs between partners. As such, the risk is reduced. 
Higher customer satisfaction
Customers are the number one source of information when it comes to the products and services sold. As success depends on alignment with their needs and expectation, understanding those thoroughly is key. Involving customers in open innovation efforts offers companies a number of ideas for new products and ways to create value. Consequently, customer satisfaction and loyalty increase.
Better brand reputation
Nowadays, a reputation for collaboration and innovation is valuable beyond the innovation landscape itself. Partners, investors, and even customers expect companies to source useful knowledge beyond their internal innovation team, as it's an indicator that the organization understands the market and is capable of serving it. 
Challenges of open innovation
While associated with many advantages, challenges in open innovation are to be expected as well. While they're not all entirely avoidable, reducing the impact of these challenges is certainly possible with the right knowledge. These are some of the challenges you need to know about open innovation:
Risk management
In the case of open innovation, risk comes with the territory. As you work together with external partners, you will take a gamble on the reliability and expertise of those that you choose to work with. While there are ways to reduce this risk through your own assessment, a partner's failure to deliver on time or deliver at all results in a loss of time and funds. 
Project management
A decentralized approach to innovation means working with a decentralized group of people. Different working methods, expectations, and communication styles can grow into conflicts when projects are not managed correctly. As such, clear and consistent coordination and communication are key to aligning all parties and jointly working towards the same goal.
Intellectual property (IP)
When it's unclear how ideas and IP will be handled, partners might be hesitant to share their proprietary information. That's why it's key to know how to handle ownership of ideas and intellectual property when working with different partners from your ecosystem. As such, open innovation requires clearly defined agreements before entering the ideation and innovation process. And each depends on the type of open innovation structure you opt for.  
Open innovation versus closed innovation
Open innovation and closed innovation are different innovation approaches. Closed innovation is the traditional approach. A company develops new processes, services, and products with its internal teams and own (human) resources and knowledge. Open innovation is a more collaborative approach where organizations invite external parties to be part of their open model. While often based on external ideas from outside the company, open innovation can be based on internal ideas from employees beyond the usual research & development and/or innovation departments.
Closed innovation is based on the assumption that all necessary elements to innovate are readily available within the company. Open innovation utilizes purposive inflows and outflows of knowledge to accelerate the innovation process. Structurally, the two approaches differ significantly. A centralized and hierarchical framework characterizes the former method. Innovation is driven by a small group of high-level experts. The latter uses a decentralized approach, where innovation generally can be 'done' by anyone rather than a select few. 
Many fortune 500 companies today use open innovation to source external knowledge to accelerate internal innovation. Take a look at some examples of companies that have leveraged open innovation in recent years.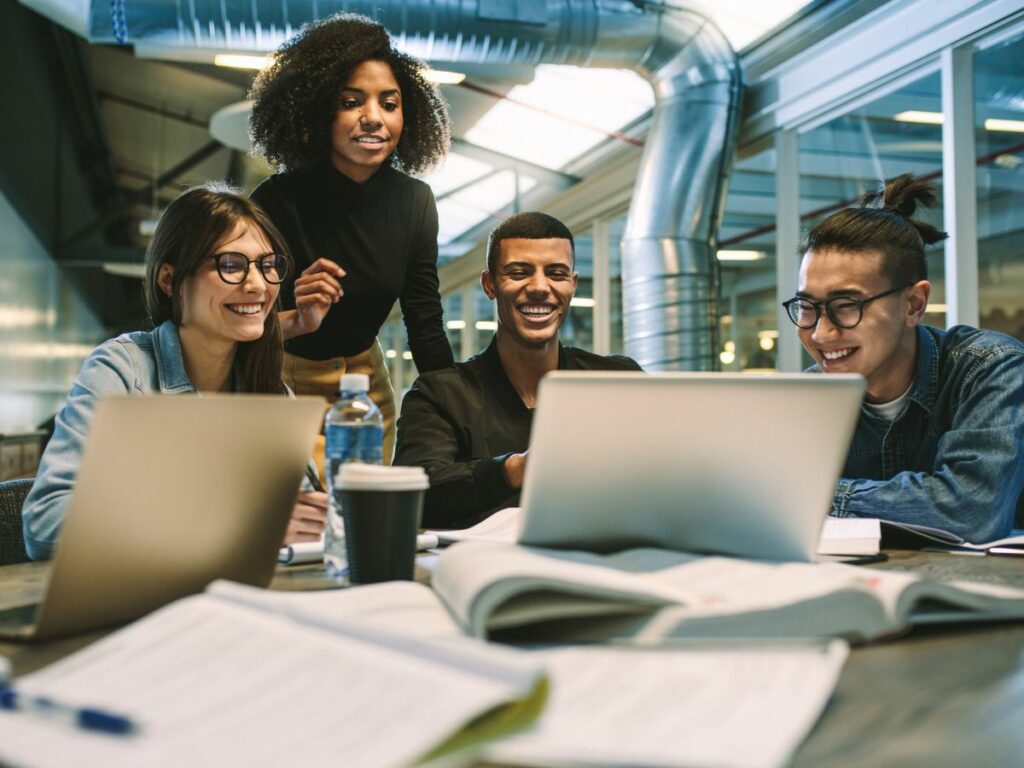 Open innovation models

Outside-in open innovation (also known as inbound knowledge flow)
The use of purposive inflows of knowledge, or outside-in open innovation, focuses on the sourcing and integration of external resources, ideas, and knowledge in an organization's innovation strategy. Rather than only utilizing internal resources and capabilities, companies engage external communities and ecosystems to jointly develop and deploy new solutions, products, or services. 
Some examples of this approach towards open innovation:
Corporate-startup collaborations
Often organized in the form of startup innovation programs, corporate-startup collaboration typically means that enterprise organizations develop a program aimed at engaging startups that offer particularly niche solutions to specific problems. Throughout a program, organizers will asses and develop solutions, often resulting in a list of winners. 
Student contests
While usually not targeted for their niche and ready-to-deploy solutions, student programs offer companies large-scale access to talent with a real connection to the market they operate in. In this case, organizations make their problem statements, mentoring, and resources available for students to contribute and develop ideas that even end up being implemented.
Inside-out (also known as outbound knowledge flow)
The use of purposive outflows of knowledge, or inside-out open innovation, focuses on using internal resources and knowledge to identify and develop the capabilities required to stay competitive in the market. As such, they open the innovation process to their entire internal workforce, rather than looking directly at external contributors.
Intrapreneurship
Intrapreneurship refers to the practice of empowering employees to contribute, develop and deploy ideas within the organization. No matter how capable the innovation-oriented teams are, it's often the employees outside this department that hold valuable insights about process optimization opportunities, customer pain points, and product feedback. Internal open innovation is the way to reveal and leverage all these ideas and talents in an organized way.
Continuous improvement
Continuous improvement is a very common method to engage employees in company-wide efforts to continuously identify opportunities for improvement. Many companies opt for a central repository and funnel workflow, where ideas can be added by anyone, and will be evaluated both collectively as well as by appointed experts. This article explains how to create a culture of continuous improvement.
Coupled open innovation (combining knowledge inflows and outflows)
Ideally, companies don't stick to one type of innovation, and rather combine various approaches. This will have them create new business opportunities at an accelerated pace. If we look at some previously mentioned examples of open innovation, the benefits of this combined approach become clear. Internal talent and external stakeholders can provide everything you need to know to identify value-creating opportunities and then develop the right solutions. 
Conclusion
As we've seen, open innovation has been around for much longer than you might have thought. It's important that people's mindsets evolve and that companies appeal even more to communities of innovators (students, developers, startups, and employees) to work together on creative processes. Collective intelligence is a powerful driver of innovation. It's a surefire way of forming partnerships that will contribute to a company's future success and growth.
Whether open innovation is done internally with the entire workforce, or in collaboration with external ecosystems, ensure that the right tools and experts are involved in the process. Not only does that minimize the risk of failure, it also streamlines the process and facilitates internal buy-in which will accelerate deployment and eventually growth.