What is innovation management?
Innovation management is the process of managing new ideas – collecting, developing, and bringing them into a reality.
Ideas are put into practice through innovation processes such as design thinking. It represents a problem-solving approach with the five stages to reach the company's innovation objectives.
Empathize: deep-dive into the research to know what your users need.
Define: determine your users' pain points
Ideate: generate ideas.
Prototype: create the prototype based on the knowledge from the previous steps.
Test: time to test the solution
The process often emphasizes the end-user in the center and can involve the participation of the internal ecosystem and stakeholders.
According to Accenture, 65% of high-growth companies plan to collaborate with customers during the innovation process, compared to 54% of other companies.
Innovation management can also refer to internal processes such as improving organizational structure and operations and developing new markets and products. At the same time, it could refer to improving existing products, processes, customer experience, and even business reinvention as part of the innovation management process. It's a powerful practice for companies to evolve and keep relevant in the market.
In theory, it sounds straightforward – innovation management deals with all measures to promote innovation in organizations: new ideas, new business, new ways of working, new models, products, and services.
But what does it take to innovate? Is it that straightforward?
Innovation requires all these pillars to implement the most viable ideas in practice:
Strategy – a clear vision and plan to achieve the company's defined goals
Process – a way for a strategy implementation – who, what, when, why
Structure – the proper organizational structure in the company allows innovation more effectively
Culture -company mindset, bring the best of each person into the company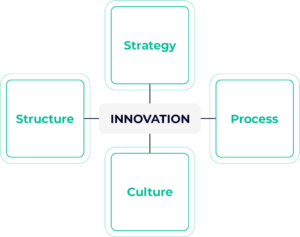 Learn more about the different types of innovation here.
Why is innovation management important?
Enterprises compete in a highly saturated market where new becomes obsolete quickly and unpredictably. Therefore, innovation is no longer an option. It is needed for three main reasons.
Keep the company relevant in the market
Evolve and grow
Differentiate it from the competition
Also, the pandemic showed us that experimentation and developing real-time decision-making in a changing environment has become a skill many industries are looking for.
Competing in a broad market is not easy and can often be due to a lack of a clear innovation strategy. How are the companies keeping up?
How to manage innovation in an organization?
Innovation is everyone's business in the company – starting from the leadership team to the most recently joined employees. The key to an innovative organization is to offer everyone the stage and motivation that give rise to a wealth of ideas. And for that, the right technology is essential to increase collective intelligence tenfold.
This helps manage innovation faster and better and keeps it consistent. Innovative ideas can come in many ways and CIOs have to be able to capture it. In the past, the reflex was to organize a brainstorming session or even a focus group. But successful organizations now prefer crowdsourcing, which is more open and directly linked to the reality of the market -current or future.
New technologies are also helping to foster innovation across remote sites: virtual reality, augmented reality, artificial intelligence…and certainly more and more the Metaverse from Meta-Facebook. Its first business application is to bring together, in the same virtual room, the avatars of the members of the same team scattered throughout the world, to promote collective work.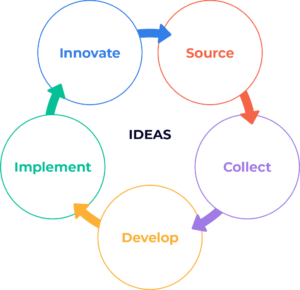 Where to source innovation?
Innovation happens, first and foremost, with the people.
Global brands use open innovation management software to foster cross-team collaboration, innovate through crowdsourcing, and obtain a strong ROI, making the most of employee potential.
They mobilize their teams together to accelerate business growth. For example, PepsiCo generated over 1000 ideas for its Next Big Idea 2021, using an open innovation platform.
Innovation is sourced from external sources as well. In 2021 Schneider launched the Go Green challenge on the Agorize platform and registered the highest number of students – 25,458 students who submitted 2,744 eligible ideas
A global life sciences company – Bayer – was empowered by the 1,171 participants from 82 countries with ideas in data farming, life science, cyber security, and digital therapeutics. Medtronic accelerated innovative MedTech and digital health solutions leveraging crowdsourcing to target the best Medtech providers. Within just six weeks, Medtronic received 323 submissions.
Undoubtedly, innovation is a must, and it remains an essential topic across multiple industries – insurance, banking, retail, and more.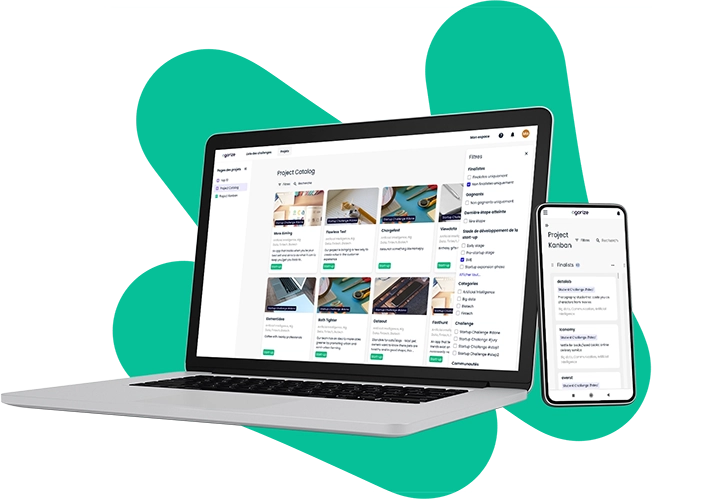 Innovation management made easy
Learn more about Agorize solutions for innovation management.
What is Agorize?
Agorize is the most comprehensive innovation management platform, supported by a team of experts and community of innovators. For over a decade, we've been providing technology powered by a community of 5 million innovators to foster change and accelerate innovation. Our clients and partners worldwide crowdsource, evaluate and develop solutions from startups, employees, developers and students using Agorize.
We've helped over 300 global enterprise companies in Europe, North America, and Asia Pacific, including Enterprise Singapore, Huawei, Microsoft, LVMH, PepsiCo, Bayer, Schneider Electric, Hitachi, L'Oréal and many more by running their innovation programs.
What is an innovation challenge?
An innovation challenge, or innovation competition, is a competition organized by a company to bring forward innovative solutions. The organizer defines clear objectives and problem statements, after which innovators are invited to submit their ideas and solutions. Proposals can come from startups, employees, students, or other talents that are relevant to the topic at hand. Through a process of crowdsourcing and assessing ideas, mentoring participants, and developing solutions, the organization will identify the winning proposals that will be implemented. More than 300 enterprise companies have organized innovation challenges with Agorize.
Their results speak for themselves. They've reduced go-to-market time with internal teams, fast-tracked the development of niche solutions with the products and services of startups, created long-term strategic partnerships, and brainstormed future-proof ideas with students from top universities. Overall, it accelerated their own transformation and made them more future-proof.
What is an internal challenge?
An internal challenge, or internal competition, is a competition organized within a company to engage employees in finding new innovative solutions. Much like any innovation challenge, it includes clear objectives, problem statements, and rewards. When done right, an internal challenge will have multiple positive impacts on the organization.
Not only will engaging employees on relevant business challenges lead to accelerated crowdsourcing, development, and implementation of solutions that increase business growth and revenue. It will also foster a company culture of continuous improvement, increase employee satisfaction and retention and attract new talent to the company.