Innovation management can be defined as the process of implementing new ideas – from idea generation to evaluation, development and deployment. Implementing strategic innovation management can boost the company's transformation and give it a competitive advantage. For example, when they develop products and services to meet unmet consumer needs. Often associated with research and development, the innovation management approach actually concerns the entire organization. Including its internal and external ecosystem.
What is innovation management?
Innovation management is the process of managing new ideas. It involves collecting, developing, and bringing these ideas into a reality. They are put into practice through innovation processes such as design thinking. This process represents a problem-solving approach with five stages to reach the company's innovation objectives.
Empathize: deep-dive into the research to know what your users need
Define: determine your users' pain points
Ideate: generate ideas
Prototype: create the prototype based on the knowledge from the previous steps
Test: time to test the solution
The process often emphasizes the end-user in the center and can involve the participation of the internal and external ecosystem and stakeholders. According to Accenture, 65% of high-growth companies plan to collaborate with customers during the innovation process, compared to 54% of other companies.
Innovation management can also refer to internal processes such as improving organizational structure and operations and developing new markets and products. Others focus on improving existing products, processes, customer experience. Even business reinvention can be part of the innovation management process. It's a powerful practice for companies to evolve and stay relevant in the market.
In theory, it sounds straightforward –  innovation management deals with all measures to promote innovation in organizations. New ideas, new business, new ways of working, new models, products, and services. But what does it take to innovate? Is it that straightforward?
The four pillars of innovation management
Innovation requires four pillars to implement the most viable ideas in practice:
Strategy – a clear vision and plan to achieve the company's defined  goals
Process – a way for a strategy implementation – who, what, when, why
Structure – the proper organizational structure in the company allows innovation more effectively
Culture -company mindset, bring the best of each person into the company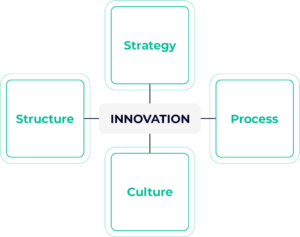 Learn more about the different types of innovation here.
Aligning the pillars with its strategy
To foster value creation through innovation, the company must set up an action plan that aligns the innovation strategy with its business objectives. Thus, innovation managers must assess the state and evolution of the market, define the budget and deadlines.
Innovation is a process. In order to implement its strategy, the company must define how it will be done. Which functions of the company should be called upon to carry out its innovation projects? Ideally, it is carried out across departments. An alignment between the innovation strategy and the objectives of each department of the company is therefore essential.
HR management has an important role to play in implementing a strategy of innovation culture in the different functions of the company. Idea boxes can be used to achieve this as they allow all teams to address problems they encounter on the daily. It is also a great solution to make different departments collaborate and to highlight the know-how of the employees.
Why is innovation management important?
Enterprises compete in a highly saturated market where new things become obsolete quickly and in unpredictable ways. Therefore, innovation is no longer just an option. Companies must innovate for three reasons:
Keep the company relevant in the market
Evolve and grow
Differentiate it from the competition
The pandemic showed us that experimentation and developing real-time decision-making in a changing environment has become a skill many industries are looking for. Competing in a broad market is not easy and can often be due to a lack of a clear innovation strategy. So, how are companies keeping up?
Taking the risk to innovate

Kodak is a company that has ruled the camera and film market for decades. In fact, it was an engineer from the company who invented the digital camera. Yet, the company did not know how to embrace this innovation. It chose to remain the same instead. For fear of seeing the sales of its films fall, Kodak did not want to develop the digital project, quite contrary to its competitors. As a result, the company stopped its photo activity when its competitors succeeded in their transformation thanks to technological innovation.
Another example less known outside the US is Blockbuster. The company was known for its old-school movie renting service. Its historical competitor? Netflix. Unlike the latter, Blockbuster did not succeed in renewing itself and the company went bankrupt in 2010.
Innovation is a risk, but not taking it can be much riskier. We have just seen this with the example of Kodak and Blockbuster.
You have to know how to compete, even in a mass market where it is often more difficult. This can often be due to the absence of a clear innovation strategy.

Is innovation management limited by internal resources?

Innovation management can refer to internal processes. For example to improve organizational structures and operations or develop new markets and products. It can also improve the customer or employee experience. Overall, it is an effective method that allows companies to evolve and remain competitive.
Innovation management concerns all measures aimed at promoting innovation in the company. The creation of new services, processes and products are anchored within the organization and simultaneously must be confronted with a market reality. This is why the innovation process extends beyond the company. The crowdsourcing model, for example, reveals undiscovered ideas within the organization. It also allows to identify them within external populations, more distant from the company. By nature, those ideas are more innovative because they exist outside the daily routines.
How to manage innovation in an organization?
Innovation is everyone's business – from the leadership team to the most recent new hires. Key to an innovative organization is to offer everyone the platform and motivation that gives rise to a wealth of ideas. The right software is essential to increase this essential collective intelligence.
Such software helps manage innovation faster and better and keeps it consistent. Innovative ideas can come in many ways and CIOs have to be able to capture it. In the past, the common approach was to organize a brainstorming session or even a focus group. But successful organizations now prefer crowdsourcing, which is more open and directly linked to the reality of the market – current or future.
New technologies are helping to foster innovation remotely through virtual reality, augmented reality, artificial intelligence…and certainly more and more the Metaverse from Meta-Facebook. Its first business application is to bring together, in the same virtual room, the avatars of the members of the same team scattered throughout the world, to promote collective work.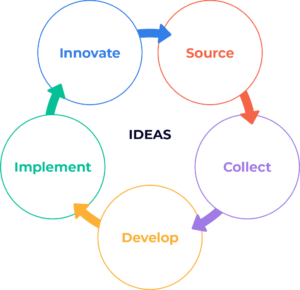 Where to source innovation?
Innovation happens, first and foremost, with people.
Global brands use open innovation management software to foster cross-team collaboration, innovate through crowdsourcing, and obtain a strong ROI, making the most of employee potential. They mobilize their teams together to accelerate business growth. For example, PepsiCo generated over 1000 ideas for its Next Big Idea 2021, using Agorize's open innovation platform.
External communities enable innovation as well. In 2021 Schneider launched the Go Green challenge on the Agorize platform and registered the highest number of students – 25,458 students who submitted 2,744 eligible ideas
Another great example is global life sciences company Bayer. More than 1,100 participants from 82 countries empowered the group with ideas in data farming, life science, cyber security, and digital therapeutics. Medtronic accelerated innovative MedTech and digital health solutions leveraging crowdsourcing to target the best MedTech providers. Within just six weeks, Medtronic received 323 submissions.
Involve your stakeholders in your innovation process
The scope of innovation was too often thought of at the level of the company alone. Now, the best innovation processes are based on an ecosystem approach. The challenge is to develop an extended collaboration model, beyond just the organizing company. Synergies between the organization and the communities and networks it operates in create true value.
Crowdsourcing as an innovation tool
Companies are now accepting that ideas are not only found within their teams. This is not just an attempt to enhance the employer brand through HR marketing. It is a strong commitment to foster the collective intelligence of human capital. And as a result, the company's societal impact increases as well.
Take Schneider Electric for example. They organized an innovation competition for students in 2021 using Agorize technology. Their Go Green Challenge attracted 25,000 students who submitted nearly 2,800 innovative ideas for the development of sustainable energy.
To be able to implement innovation programs of this scale, companies rely on innovation management software. Within a single platform, organizations can structure the collection of projects and ideas from their ecosystem and thus create an innovation portfolio. Thanks to dashboards, platform administrators can visualize and manage this portfolio to move projects forward in their workflow. Innovation management software is a great tool for the operational management of innovative projects.
The example of the healthcare sector
After the pandemic, several major groups want to accelerate their transformation. They want to digitalize their business faster and use data analysis to create new opportunities. Global pharmaceutical group Bayer launched an innovation competition to achieve these objectives. The company attracted more than 1,100 participants from 82 countries around several themes such as developing best practices in digital health or using data for more responsible agriculture.
Medtronic, another healthcare leader, has accelerated the deployment of its healthcare technology solutions. To do so, the company relied on crowdsourcing to identify and evaluate the best Medtech vendors. In just six weeks, Medtronic received 323 proposals. This made it easier for the company to implement the innovations it needed to remain competitive in a hyper-competitive market.
Undoubtedly, innovation is a must, and it remains an essential topic across multiple industries – insurance, banking, retail, and more, as it remains the primary trigger for growth and resilience in a changing environment.
Crowdsourcing to strengthen employee engagement
Innovation starts with people. Revealing latent ideas and putting them into action requires the active contribution of employees. It is crucial to give each employee a voice that's truly heard if you want to transform your organization. The collective co-construction model you create by doing this is a strong commitment to your talent management strategy. The company becomes more efficient and generates more value while enhancing its human capital.
An example of an innovation program improving employee engagement in the retail sector
Improving employee engagement serves all industries and especially businesses with high turnover, which is costly and a stagnate growth. As part of its customer-centric transformation process, the management team of a department store group wanted to involve all teams in the search for the best ideas to renew the customer experience in-store. Especially those from salespeople who are in contact with customers daily.

Of course, this initiative was adapted to different stakeholders, including in-store team without company-assigned devices. Employees submitted suggestions, ideas and problems in one click in a centralized space for several weeks with the help of Agorize's idea management platform. Then, the voting phase allowed participants to collectively select ideas with the highest potential. As a result, ideas were deployed more quickly than in a traditional innovation process.
Sharing feedback about submitted proposals is often an overlooked step. However, it is an opportunity for management to monitor and communicate changes in processes, working conditions, products and services. Strengthening of individual responsibility and more proactivity within organizations that innovate in an open and collective way. Not only from employees but also from a part of the ecosystem whose stakeholders cooperate more efficiently.
Conclusion

Innovation management is an extra-intra and inter-organizational process. It encompasses all the stakeholders of an organization. To do this, it is important to instill a mindset that enables innovation and empower innovators. On the one hand, internally, by encouraging departments to collaborate and ideate new solutions. On the other hand, externally, by engaging communities on a specific theme. To do this, companies can rely on idea or innovation management software right from the start of the project.
Thanks to the power of collective intelligence, companies can identify innovative projects to create value and improve a product or service.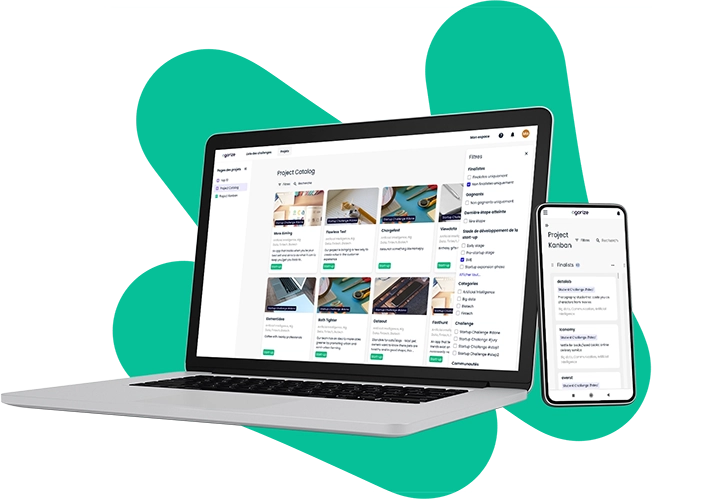 Innovation management made easy
Learn more about Agorize solutions for innovation management.
What is Agorize?
Agorize is the most comprehensive innovation management platform, supported by a team of experts and community of innovators. For over a decade, we've been providing technology powered by a community of 5 million innovators to foster change and accelerate innovation. Our clients and partners worldwide crowdsource, evaluate and develop solutions from startups, employees, developers and students using Agorize.
We've helped over 300 global enterprise companies in Europe, North America, and Asia Pacific, including Enterprise Singapore, Huawei, Microsoft, LVMH, PepsiCo, Bayer, Schneider Electric, Hitachi, L'Oréal and many more by running their innovation programs.
What is an innovation competition?
An innovation competition, or innovation challenge, is a hackathon organized by a company to bring forward innovative solutions. The organizer defines clear objectives and problem statements, after which innovators are invited to submit their ideas and solutions. Proposals can come from startups, employees, students, or other talents that are relevant to the topic at hand. Through a process of crowdsourcing and assessing ideas, mentoring participants, and developing solutions, the organization will identify the winning proposals that will be implemented. More than 300 enterprise companies have organized innovation programs with Agorize.
Their results speak for themselves. They've reduced go-to-market time with internal teams, fast-tracked the development of niche solutions with the products and services of startups, created long-term strategic partnerships, and brainstormed future-proof ideas with students from top universities. Overall, it accelerated their own transformation and made them more future-proof.
What is an internal innovation competition?
An internal competition, or an internal hackathon, is a competition organized within a company to engage employees in finding new innovative solutions. Much like any innovation challenge, it includes clear objectives, problem statements, and rewards. When done right, an internal challenge will have multiple positive impacts on the organization.
Not only will engaging employees on relevant business challenges lead to accelerated crowdsourcing, development, and implementation of solutions that increase business growth and revenue. It will also foster a company culture of continuous improvement, increase employee satisfaction and retention and attract new talent to the company.
Transform your business starts with a chat together. Let's talk