What is talent management?
Identifying and engaging employees, also known as talent management, is a strategic concern for companies and HR departments. Employee engagement covers the entire employee journey within the organization. It applies to application and integration, through learning, personal development, and career progression.
In the current job market, applicants and employees have increasingly gained negotiation power. Attracting highly qualified employees is a full-time activity requiring an extensive and diverse approach. Companies face a number of issues:
high turnover
low engagement
or a tarnished employer brand
Employee retention and engagement issues are among the top concerns of business leaders.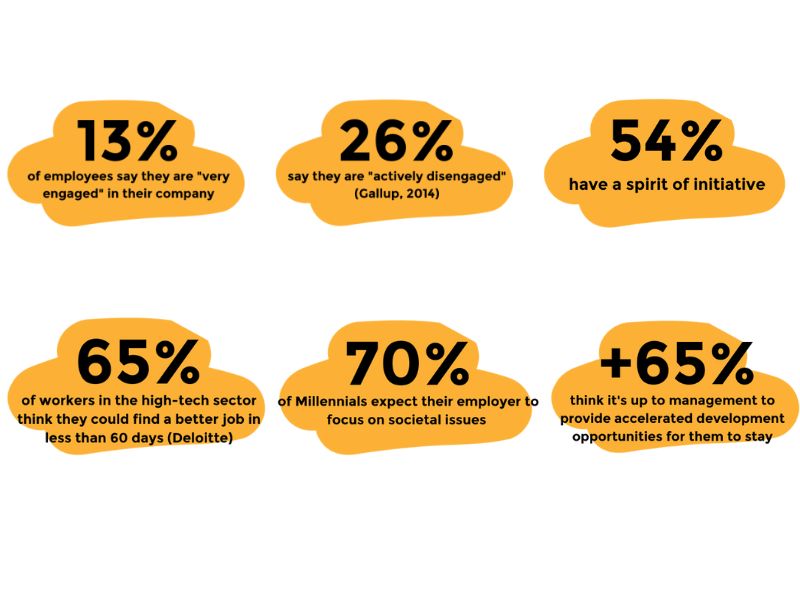 Talent management can be seen as a strategy to attract employees, whether they are internal or external to the company. The goal is to understand their motivations and engage them through a "talent journey", similar to the "consumer journey" traditionally used by marketing teams. But let's start at the beginning: how do we define employee engagement?
Transformational leadership to boost employee engagement
The very essence of employment contracts has been turned upside down. Aware that they switch employers a few times in their career, employees seek shared meaning and values in their work. Influence is no longer solely in the hands of the employer, but also shared with the employee. Therefore, company must consider the employee as a human being in their own right. Moreover, they must focus on them being individuals rather than one uniform collective.

This is where transformational leadership finds its place in the realm of employee engagement. In contrast to transactional leadership, which draws motivation from exogenous sources (income, sanctions), transformational leadership motivates through intrinsic sources relevant to the employee. This management style requires employees to determine the meaning they give to their actions and to find their own motivation.
To dive a bit deeper, transformational leadership is built around four characteristics.
Idealism
Inspiration
Intellectual stimulation
Consideration
Example: Forbes article
According to Carley Sime in a Forbes article:
"Transformational leaders enhance morale and motivation among followers, they are able to encourage them towards working for a collective good and beyond working solely out of self-interest. The effects of transformational leadership are highly desirable for the followers and the organization itself. Transformational leadership has a high payout as it positively impacts innovation, the heart of success and growth within an organization. It also increases organizational performance as well as job performance and satisfaction too. This could easily be seen as the holy grail of leadership, especially when compared to the transactional kind we have all probably known."
Personally engaging employees in the success of the company leads employees to question their way of working. The result? An improved performance, as the trust regained among employees leads them to develop new ideas and to take measured risks.
Example: Semco Partners
Ricardo Semler, CEO of Semco Partners, has implemented transformational leadership. Semler suffered a heart attack at the age of 25 due to his 18-hour work day. It made him realize that he needed to "let go". Semler implemented several measures, including reducing process control and simplifying budgets and objectives. Twenty years later, his turnover had grown by 5000%. While the story seems out of the ordinary, it is an example of the success of this management style. It meets the expectations of employees by giving meaning to their jobs and their daily lives. Both affecting their chances of resigning their contract.
Read more: Learn how to accelerate growth by engaging with startup
Talent management: 3 new HR missions
To face new talent management issues, companies and Human Resources departments have to fulfill three functions:
1. Act as catalysts
Create a space where talents are continually being formed
Develop a structure in which talent feels recognized and operates autonomously
Aim to be a company in which employees satisfy their quest for meaning
2. Empower talent
Top management needs to identify and recruit high-potential talent
The company stimulates and motivates talent to contribute to its vision and missions
Unite external and internal talent around common goals, challenges and shared values.
3. Disrupt the business model
The company needs to continuously develop new projects in order to reinvent itself to be built to last.
It can rely on its talents to achieve this and unite ALL employees around this challenge.

Research by BVA
Talent management is a tool to mobilize talent in search of autonomy, fulfillment, and capability development. This quest for meaning is all the more important in a crisis situation. According to a study conducted by BVA, 58% of working people who have considered a career change because they want a job with more meaning. So, do consider that employees want to:
feel that they are part of a whole
be an essential piece of the organization's puzzle
give meaning to their work
and be proud of the work they have accomplished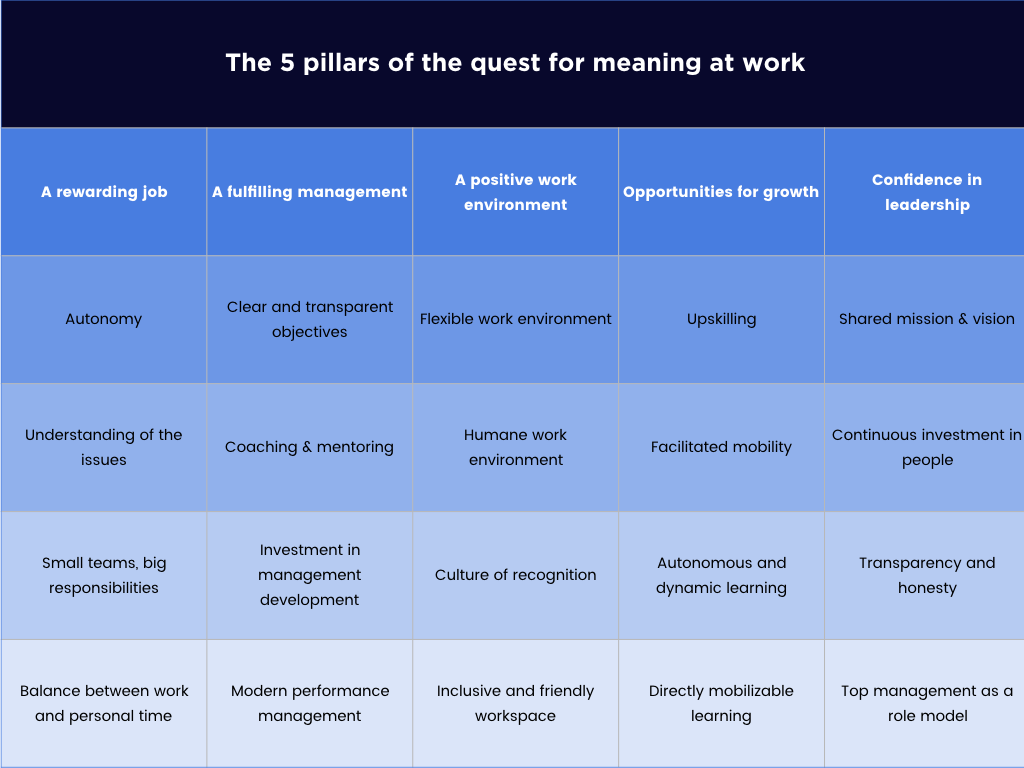 So, the benefits of strong talent management go far beyond achieving HR KPIs. Engaged talents become evangelists for the company, both internally and externally. They motivate their employees and think of new organizational or commercial solutions. They are more proactive and their innovative spirit is on the lookout for any growth opportunity for the structure in which they work.
Read more: Co-creation and lean innovation for a successful digital transformation
Having a company culture that promotes innovation and the pro-activity of talents is the first step. Thus, giving them a space to collaborate on their projects is the real highlight of your talent engagement program.
But, how can you mobilize your talents in a crisis context and make them the growth engine of your company? How do you continue to motivate teams, particularly when spread out around the world, from a distance? In what way can you ensure that the spark is still there and that the talents of tomorrow remain attracted to your company?
How to turn talent into a growth engine
The first step is to unite talents around a common project. For example, you can ask them to boost your innovation, identify ways to make you more efficient, or make your offer more responsible.
Ludovic Anfry, 35, likes to put his ideas into practice. Hotel group Accor launched Innov'Accor in 2001. Receptionist Anfry proposed to systematically cut off the electricity as soon as customer left their room. Today, it's the badge in your room that manages the power supply. As a result, the Accor group to save between 600,000 and 1 million euros between 2002 and 2003. Anfry climbed the ladder at full speed, and three years later found himself director of a hotel in La Rochelle.
Secondly, consider turning interest into action. Give your company's internal and/or external talent a dedicated platform where their ideas can be transformed into concrete actions. Then, these action can be directly implemented by Top Management. This platform can take many forms. For example through innovation programs, hackathons, incubators, and idea boxes. In short: show your employees that you support them in their efforts to contribute to the growth and development of your company.
Build a glass house
Social networks and the internet have accustomed us to fast, transparent and open communication. Humans constantly need to have clear and precise information. In the age of "infobesity" this is even more true when this information directly affects your company.
If your company is facing difficulties or going through a difficult period, it is essential to inform your employees quickly. This is also true when you have a good quarter, when someone achieves a particularly remarkable feat or when a customer gives you glowing feedback.
In fact, studies show that among millennials, leadership transparency is one of the top drivers of corporate loyalty. (Deloitte)
Read more: Overcoming the unexpected with the help of your employees
The 7 benefits of effective talent management
A company is first and foremost the people who make it up. Taking this into account means creating a space for synergies that foster innovation, commitment, and performance, both individually and collectively.
1. More satisfied customers
How can you keep your customers happy if you don't take care of your employees?
An engaged employee feels invested and recognized in the organization. These two feelings lead them to go above and beyond to provide quality service to your customers, taking pride in doing their job to the best of their abilities.

For example, one of your sales people might take the time to explain to a potential customer how a product works while encouraging additional sales. And a web developer does everything possible to make sure that your website is bug-free. Customers are sensitive to this and in turn become evangelists of their experience, reinforcing the loyalty of your community and the acquisition of new customers.
Glassdoor research shows an average 1-point increase in company rating is associated with a 1.3-point increase in customer satisfaction.
2. Constantly create and innovate
Engaged talent is more creative. They are quicker to share ideas and observations with the company, making them a real asset. They know your market, your objectives and your challenges. Therefore, their range of solutions is wider, smarter, faster and they effectively affect growth drivers.
Innovation is the result of several factors, and the main ones are the encouragement of managers to create, dare, and accept the share of risks and the interest for the company's performance. Brought together, these ingredients form the perfect recipe that reveals the innovative potential of each employee.
3. Attract qualified profiles to guarantee company sustainability
The more your company has shared human values, the more it is recognized as a company where daily work is pleasant and meaningful. Then, qualified and motivated profiles will want to join your company.
4. Boost team performance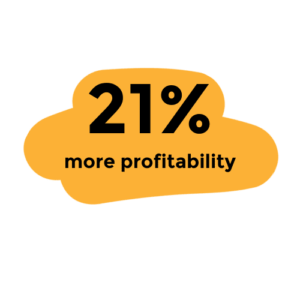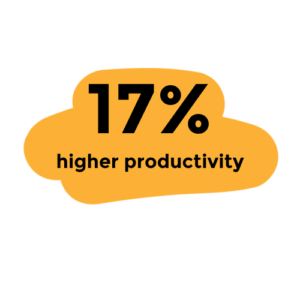 Results from companies with an in-house Talent Management program (Deloitte, 2015).
Engaged employees' ambitions are to contribute their brick to the building of your organization. Therefore, they will find ways to work more efficiently and be uncompromising about its quality. The motivation of a less committed employee will be essentially financial. Yet, the motivation of a committed employee is to provide work that they can be proud of, and move the company forward in line with its values (transformational management).
5. Strengthen your corporate culture
In recent years, corporate culture has become a major concern. Engaged employees understand their own importance as well as that of others. Then, they are more likely to take time to train, advise and engage their colleagues. Moreover, they are invested in the success of their company, built by and for employees, to ensure that other employees are able to contribute effectively to its success.
Read more: BNP Paribas has strengthened its corporate culture through open innovation
6. Reduce absenteeism and turnover
According to the 12th Absenteeism and Engagement Barometer conducted by Ayming/Kantar, executive absence increased in 2019 (before the Covid-19 pandemic). However, the top 4 engagement factors are work relationships, job content, company ethics and finally flexible working hours. Talent management focuses on these factors. If your employee believes in what they are doing, they will come to work. For a committed employee, leaving their job makes no sense and is a major risk to their personal and professional life balance. Talent management thus leads to a better retention of staff, especially the retention of the best performing members.
7. Reduce the number of security incidents
Finally, an engaged employee is attentive to what they do and to the safety of their colleagues. They want to do their job properly. Therefore, they are more attentive to their environment and their actions. Moreover, engagement encourages innovation by workers in the field, as they come into contact with daily problems to which they certainly have an answer if the company's culture allows them it. In the long run, several solutions to avoid security incidents can be generated.
Conclusion
In conclusion, talent management is part of a global corporate strategy. It drives human and financial performance and is the engine of a positive reputation, trust, and dynamism. To be successful, all departments must take ownership of the talent management issue, while being led by HR, which will be able to provide the broad outlines.
Engage your employees with idea management platform
Fill in the form and an expert will contact you.
Agorize a besoin des coordonnées que vous nous fournissez pour vous contacter au sujet de nos produits et services. Vous pouvez vous désabonner de ces communications à tout moment. Consultez notre Politique de confidentialité pour en savoir plus sur nos modalités de désabonnement, ainsi que sur nos politiques de confidentialité et sur notre engagement vis-à-vis de la protection et de la vie privée.
What is talent management?
Talent management can be seen as a strategy to attract employees, whether they are internal or external to the company. The goal is to understand their motivations and engage them through a "talent journey", similar to the "consumer journey" traditionally used by marketing teams. But let's start at the beginning: how do we define employee engagement?
What is Agorize?
Agorize is the most comprehensive innovation management platform, supported by a team of experts and a community of innovators. For over a decade, we've been providing technology powered by a community of 5 million innovators to foster change and accelerate innovation. Our clients and partners worldwide crowdsource, evaluate and develop solutions from startups, employees, developers, and students using Agorize.

We've helped over 300 global enterprise companies in Europe, North America, and the Asia Pacific, including Enterprise Singapore, Huawei, Microsoft, LVMH, PepsiCo, Bayer, Schneider Electric, Hitachi, L'Oréal, and many more by running their innovation programs.

What is intrapreneurship?
Intrapreneurship refers to the idea of entrepreneurship within an existing organization. Entrepreneurship is often defined as the creation of a new business or idea that comes with great risk and great reward if successful. Thus, intrapreneurship is considered less risky because it takes place within an established environment.

However, that environment also limits the autonomy of the intrapreneur. Promoting and boosting intrapreneurship has many benefits. Not only can it contribute to business growth and revenue, it also improves employee satisfaction and retention and talent acquisition of those with an entrepreneurial mindset.

What is idea management software?
Agorize IDEA BOX is an ideation management platform that helps organizations collect, assess, and develop ideas from their employees or external communities. It's an all-in-one solution with features to simplify the process of crowdsourcing ideas, so ideation can be accelerated and improved. Individuals or teams can submit ideas, which can then be evaluated by peers or experts on the platform through grades or virtual investments.
Then, the best ideas can be further developed with the input of others through feedback and comments. Our IDEA BOX solution is popular amongst HR and innovation leaders at enterprise companies. IDEA BOX allows HR leaders to engage employees across teams and countries to contribute valuable ideas and collaborate.

As such, positively contributes to the company culture, employee satisfaction and retention, and overall ROI. On the other hand, IDEA BOX supports innovation leaders in solving problem statements by opening up to the relevant communities they want to engage, such as customers, employees, or other innovators.