Why are some large companies able to create more value through innovation? How have they continuously reinvented themselves to stay ahead of new market expectations? And how do they stay at the forefront of their industry decade after decade, even through the era of digitalization?
60% of innovation and HR departments expect transformation to generate growth opportunities, according to McKinsey. It indicates the major change that innovation and transformation leaders and departments are facing today. In the early 2000s, marketing departments went through a similar transformation. In the end, it's all about transforming to generate value for the customer. Value creation is what accelerates a company's growth. However, for innovation leaders to contribute to this, they need to be able to measure the performance resulting from innovative ideas and calculate the return on investment.
Achieving value-creation through innovation requires designing better-managed innovation processes, based on a methodology with defined and measurable objectives. It also calls for the availability of resources needed to achieve these objectives. They are part of a defined framework around the company's values. 
Following a defined process is reassuring in the case of innovation as it can be complex to forecast its outcome. Agreeing to follow a series of steps professionalizes the innovation process and simplifies sharing it within the organization. 
"Good to Great": accelerate your growth through innovation
Meet your market's expectations through an innovation process aligned with your vision
After a decade of collaborating with international enterprises, one thing is certain: empathy is essential. Focussing on understanding the (future) beneficiaries of innovation through in-depth research of their needs is key to its success.
Moving forward in the innovation process is like a series of iterations. These iterations must serve the strategy that responds to the needs of the addressed market, and even anticipate them. The Hedgehog Concept, developed by Jim Collins, is the way to go: performance comes from truly mastering something. It's better to aim for simplicity than to constantly create complex strategies that supposedly help you attack new markets, to your disadvantage. 
In the case of innovation, anticipating how you'll manage the innovation process is essential. How will you reveal, identify, evaluate, develop and implement ideas? And above all, how will you measure their concrete impacts on growth? Every project is built around KPIs, and you can only demonstrate your success by measuring that it works.
Setting a goal starts with knowing yourself
What is your company's strategy? And what does it do best? Innovation is not just about technology or the long term. Therefore, it's key to know yourself and your way of working before you start the transformation process.
Of course, this also means that innovation relies on the people who carry it. Everything always starts with the individuals behind the initiative. At the same time, we must also consider the tools available to them to accelerate the process. Ideally, transformation processes involve management and employees.
Involve the entire organization in the innovation process
Involving the entire organization in your innovation process is essential as ideas can come from anywhere and innovation affects everyone in the business. Ideation, the creative process of producing, developing, and communicating new ideas, has long reached beyond the scope of the innovation department alone. All teams now contribute to continuous improvement. Support and operations functions are all involved. The 'Built to Last' concept has been adopted widely, and no longer just speaks to organizations' executive committees.
Improving operational processes, reducing go-to-market time and the ability to be in direct contact with future customers are all challenges to which it is relevant.
As such, it's essential to define a common ground to carry out this approach and facilitate its large-scale deployment.
Successful organizations use crowdsourcing, which is open and directly linked to the reality of the market, current or future. So, think about your ecosystem and beyond your organization to get a head start.
Which measures indicate innovation process performance?
The basic KPIs to follow are those recommended by the OECD. It starts with incurred expenses, which are not only for R&D. Then, the inventory of the number of new patents, the commercial performance of the offers resulting from innovation, and the incremental value generated are considered.
However, there's more. You need to complete your KPIs with assessment elements that align with your activity and organization. For example, if you're a call-center provider you must look at your gained productivity or reduced onboarding time. The implementation time should also be part of your KPI dashboard, so you can prepare for the next phases and benefit from economies of scale accordingly.
Meanwhile, the number of contributed and selected ideas in your innovation program should be considered as a one-time indicator and nothing more. It's the concrete result from the idea deployment that should be the true performance indicator of your investment in innovation.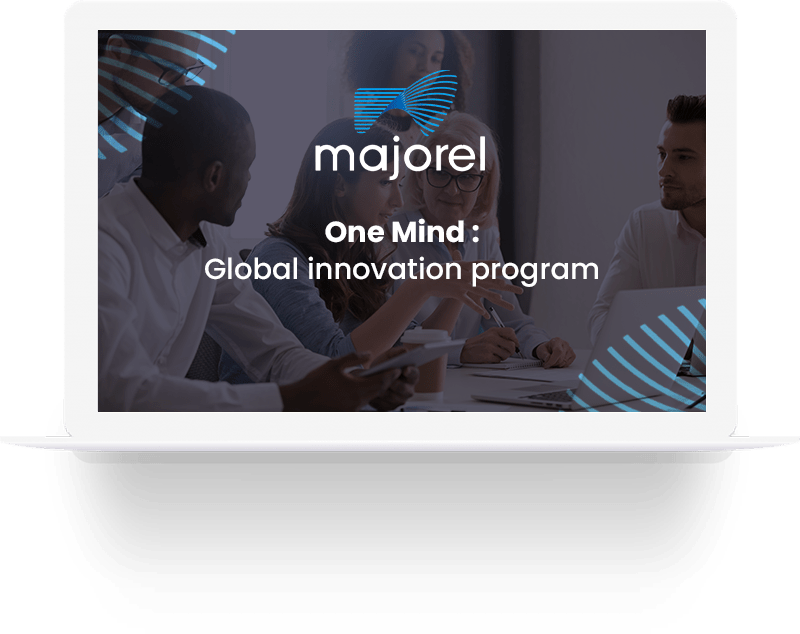 Case Study: Majorel
Learn how Majorel successfully simplifies its innovation process with our idea management software.
Innovation process: Assembling your innovation engine
Innovation processes have increasingly started to look like a marketing approach, using a commercial 'funnel' in which validation steps follow one another. In order for an idea to move forward in the ideation process, it must meet eligibility criteria such as fitting a timeline or responding to a specific need.

To gain efficiency it is essential to adopt an idea management tool. Much like in marketing, innovation too calls for its own type of CRM. Such a solution makes it possible to track the steps of your idea funnel and reactivate them if necessary. Information is more easily shared and overall collaboration is more adaptable.
Then, the project manager or steering committee updates the status of each innovation program. This allows them to explain why it should be continued (or not) and what resources need to be allocated to it.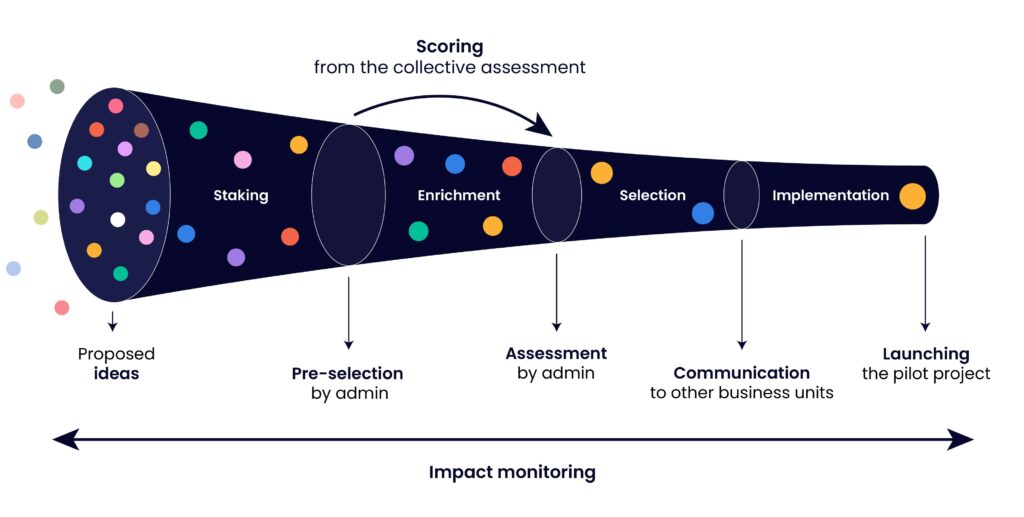 Typically, our clients rely on these steps to channel the abundance of shared ideas into concrete results:
Stimulate the sharing of ideas
Collect proposals and collectively evaluate them
Transform the idea into a project
Confirm project feasibility with several entities or business units
Develop the proven concept into a pilot
Measure the delivered incremental value
Deploy the solution at scale
While no steps should be skipped, it is important to remain flexible with your method to encourage collective support.
Stimulate the sharing of ideas
The first step of any ideation and innovation program is stimulating the sharing of ideas. Whether that's internally or externally, these are a couple of best practices.
Allow for several weeks of idea submission, during which you actively communicate about the themes that participants can choose from. However, don't close the idea submission phase. Even if you don't communicate about the 'extension' of your deadline, you'll find that people will continue to offer new ideas.
In this case, an idea management tool would be helpful to track the progress of submitted ideas you have received along the way. Don't wait for the deadline of your program to initiate your transformation. Your competitor definitely won't make that mistake.

A good engine only works at full capacity with the right fuel. Similarly, no matter how good your innovation process looks, you'll need the right communities to truly unlock the value of collective intelligence and innovation. Consider the following audiences when crowdsourcing ideas:

Employees at your organization: people from different teams, offices, and countries within your organization.
Players in your ecosystem: customers, partners, or suppliers that already know your organization and the industry you're operating in.
Remote communities beyond your usual reach: while often disconnected from your core business, they could provide you with more "out of the box" solutions than internal brainstorming. This is your opportunity to capture the attention of startups whose solutions are already operational and to save and save precious time.
Consider framing your innovation program by creating sub-categories. Recently, we supported a client on the topic of energy sobriety. Together, we defined action categories such as "On the company site", "On the road", and wildcard categories open for any other type of proposals. This type of initiative can lead to major changes.

A great example is the Accor group, which launched InnovAccor in 2001. A receptionist proposed to systematically cut off electricity when clients left their rooms. A few months later, his idea was enriched and deployed on a large scale. It is now the room's key badge that manages the electricity supply.
This idea alone enabled the Accor group to save between 600,00 and 1 million Euro between 2002 and 2003 and even more in the following years. And the receptionist? He has become the head of a hotel establishment since then.
Collect proposals and collectively evaluate them
The idea collection and evaluation phase of an innovation program is where a difference is made. This is complicated without an idea management tool. An efficient operating method is based on exhaustive proposal collection. Generally, an online platform accessible by invitation facilitates this process. Participants share ideas openly and evaluate them collectively.
Doing this makes it possible to enrich initial proposals and involve all teams. They not only help with the selection process but also endorse the concepts that are approved for implementation. According to the data we have collected, this reduces the rejection of adoption by 78%.
If you want to engage your audience you need to consider who they are. Do they have laptops and business cell phones? Are they sedentary or always working outdoors? You need to adapt the idea collection phase based on their preferred method if you want to obtain more proposals.
You can look at collective evaluation through the lens of social networks with likes and comments. Involve your communities by creating a gamified way to express their feedback and evaluations. A popular tool is betting with virtual money. Not in the form of cryptocurrency, but through a fake currency that allows participants to emphasize certain proposals that they particularly appreciate. 
Rewarding behavior with points and leaderboards increases engagement as well. Allocate points for participation and interaction to recognize the most involved talent. You can expect some delighted HR leaders with this method as well, as it quickly sheds light on involved employees. 
Transform ideas into projects to confirm feasibility with all stakeholders
The various phases of your innovation program will often overlap. While proposals are still being collected, you might already want to transform some ideas into projects to confirm feasibility with other stakeholders.
During this particular phase, you will see the level of alignment between your program and internal bottlenecks. It's also where you will reconcile original ideas with new suggestions. To ensure an efficient idea selection and save time in the remainder of your innovation process we recommend you:
Remain consistent with the company strategy
Think about all the entities that could benefit from the value generated
This phase is also a critical one. If your steering committee isn't convincing enough, your risk prematurely discontinued projects. It is at this point that the risks associated with innovation must be considered. You don't want them to prevent you from advancing to the next stage. Proactively limit the chance that this happens by sharing the risks involved beforehand. 
Finally, you will reject certain proposals. Just like when you reject a candidate while waiting for a response about a job opening, consider communicating the reasons for rejection clearly and quickly to the participant. If you use a modern innovation management tool, it will have collaborative features that will make sharing this feedback easier. 
Also, consider archiving rejected ideas that might be useful later using a method like a keyword system. Needs often evolve quickly and then require a change that could be implemented faster.
Develop ideas into a pilots and measure the incremental value it delivers
Generally, the projection of revenue, growth, and ROI gain determines access to this stage of your innovation program. When the steering committees have been involved in the innovation program from the start, this phase is likely to be more successful and completed faster.
First of all, internal teams carry out the calculation of estimated gains. This then extends to other entities in the organization, but also to partners, supplies, and (future) customers. Contrary to the outdated method of focus groups that are conducted post-product launch, some of the best marketing teams have used this approach to adjust a new product and reduce the time-to-market by 60%. It's best to get feedback before the deployment of the solution. 
Deploy the solution at scale
The pilot phase is a key step, whether it is to improve a process or to prepare for more profound change. During this stage you can:
Project potential gains
Identify limitations
Make objective decisions about a concept or solution proposed by a startup
While crucial at every stage, monitoring in particular affects this phase as it demonstrates the validity of the approach and whether there's an ability to reproduce it later with fewer struggles.
The native integration of monitoring is more frequent now than it was in 2010 when only 1 in 4 executives established performance criteria for innovation, but unfortunately, it's not systemic. It is essential however to measure any investment an organization makes. And frankly, we too would like to systematically measure how many growths points our clients have gained thanks to our innovation management software.
In the end, it is the organization that enters a trajectory of virtuous long-term innovation and continuous improvement that will end up or remain in a leading position in its market.
Ready to reveal top ideas and innovation with Agorize?