Employee engagement platforms have become an essential tool for managers and HR teams in recent years. Contributing to the transformation of the company, through the detection of ideas and supporting talent management, these platforms meet major challenges for companies: employee satisfaction and retention. Companies are now turning to technology to improve the engagement and loyalty of their talent.
By understanding the importance of employee engagement software, what it looks like in practice, and the ROI it can deliver, HR teams can make informed decisions about how to implement and leverage these technologies to achieve their goals. In this article, we will explore different employee engagement initiatives, software that supports HR teams, and the impact it can have on the growth of the organization.
Impact of employee engagement
A study by Gallup indicates that there is a strong correlation between employee engagement, performance, and company results. Employee engagement is a key element for the sustainability of the company and its ability to create value. It refers to the extent to which employees are involved in their organization's activities in order to contribute to the achievement of its objectives. Both through their actions and their attitude.
Employee engagement has the advantage of strengthening the links between your employees and current or future customers. Your teams can propose adapted, innovative, and well-executed solutions because of their thorough understanding of customer needs. The same applies to business processes. Being in direct contact with customers offers a wealth of knowledge that can help companies become more efficient, innovative, and attractive. But only if this information is identified, evaluated, and shared collectively.
Often, before finding solutions, it is necessary to be able to detect bottlenecks and problems, and this requires the deployment of a centralized idea exchange space. Employee engagement contributes to the continuous transformation of the organization, not only by creating new products and services but also by improving business processes.
Why HR leaders need an employee engagement platform
It's clear how the ability to engage employees, understand how employees feel, and improve employee experiences affects human resources teams. However, the reality is that many organizations fail to adopt the right HR tools or software solutions to facilitate a scalable employee engagement program. Engagement solutions features extend beyond pulse survey tools and performance review systems. Rather, successful HR teams adopt an employee engagement solutions platform that enables collaboration among teams, employee recognition, and a system to organize, assess and deploy ideas.
Such software provides a great employee experience overall. As such, HR leaders will be able to boost engagement and measure employee performance, leading to a range of benefits. Gallup research shows that engaged employees lead to 23% profitability increase, 14% productivity increase, and even 10% increase in customer ratings.
Different employee engagement initiatives
Employee engagement initiatives can come in different forms. Ultimately, the goal of employee engagement initiatives is to foster a culture of engagement, where employees are committed to the organization's success and feel a sense of purpose and fulfillment in their work. Some common examples are:
Employee feedback
Organizations can collect employee feedback through employee surveys. It gives employees the opportunity to voice their own ideas, concerns, and opinions. They offer the employer new insights that would otherwise have been missed and show that every employee is heard.

Development and training programs
By offering people the chance to develop, employees will experience growth and outline a clearer path within the organization.

Team-building activities
Team-building activities promote collaboration and communication, which helps foster a work environment in which people and teams are better in tune and collectively working towards a goal.

Recognition and rewards programs
When companies engage with their employees through recognition and rewards programs, it will support employee contribution and excellence. Recognize great ideas to stimulate people to continuously contribute suggestions for improvement and new opportunities.
As we'll see next, rapid development and competition have driven many organizations to step up their game and stay ahead of others with a more dynamic employee engagement software platform.
Employee engagement software
Employee engagement software is a valuable tool for organizations that want to measure, recognize, and promote positive employee activity. By encouraging and rewarding input, employee engagement tools provide actionable insights to improve the organization and promote company-wide recognition of employee success.
A lot of employee engagement tools are built around pulse surveys and direct employee sentiment measurement and feedback. However, to keep up with the pace of the market, companies nowadays also opt for more interactive and dynamic software tools that improve employee engagement by sourcing ideas and solutions to help the entire organization. It puts the employee in the driver's seat, giving a share of voice on topics beyond the realm of employee satisfaction.
Many large organizations choose an employee engagement platform that combines a number of engagement drivers in an all-in-one engagement platform. There are platforms, like Agorize IDEA BOX, that include the following engagement features:
Communication to the community through messages, chat, and video conferencing
Feedback from employees to management through a call for ideas interface
Easy collaboration among admins as well as participants
Sense of team effort through commenting and voting on colleagues' ideas
Recognition through an in-app leaderboard
Close the loop with data-based reports on the collective efforts and outcomes
When companies opt for such a platform they maximize their employee engagement. Rather than a one-off initiative, it fosters a culture of collective intelligence and continuous improvement.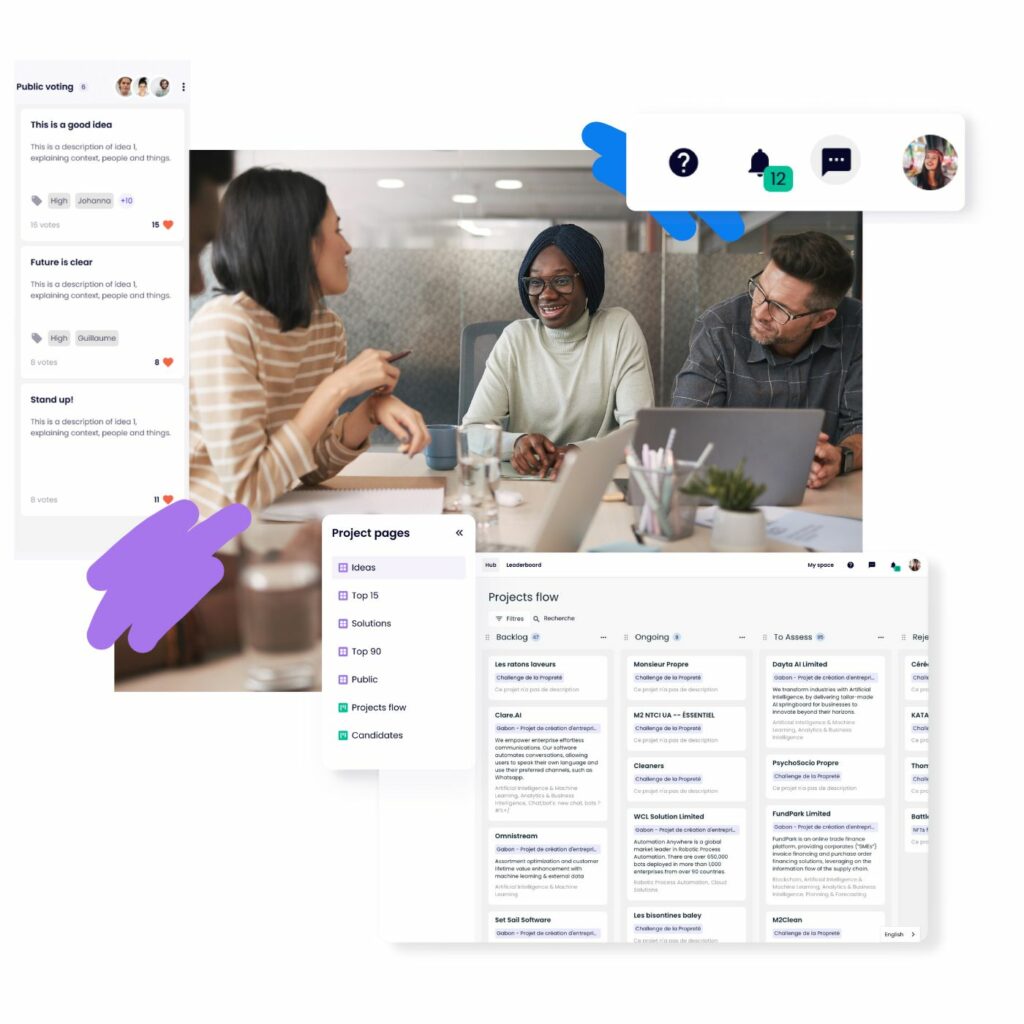 Best employee engagement tools in 2023
Engaging employees goes beyond asking them how satisfied they are in their jobs and organizing team building events. True engagement comes from a sense of collective effort and investment in the company's missions. That is why organizing a call for ideas, also called an IDEA BOX, is such a loved approach by enterprise HR leaders today.

An IDEA BOX is a centralized solution to collect, assess and deploy ideas from various communities, often employees. It fosters collaboration, open innovation and creates value out of collective intelligence. Agorize has developed such an idea and innovation management solution. It has even been recognized by G2 as a leader in idea management software.

Some of our enterprise clients have seen crucial ROI from this, ranging from 60% reduced time-to-market on a new product launch, to a 50% increase in business operations and 3x faster skills transfer. The IDEA BOX allows you to scale globally, with companies generating up to 4,000 ideas in a matter of months.

Launching your own IDEA BOX to rally your employees is easier than ever before. You can now request a free trial to try Agorize's all-in-one employee innovation program solution. You can accelerate the transformation of your organization when you increase employee engagement. Don't miss out because the right software platform was missing from your stack.