With anticipation reaching its peak for the upcoming Singapore Week of Innovation and Technology (SWITCH) 2023, the Global-Asia innovation ecosystem is gearing up for an exciting 3-day conference that brings together international leaders, investors, startups, and innovators from Singapore and beyond. Agorize is looking forward to attending SWITCH once again. Not only as the innovation partner supporting deep-tech startup competition SWITCH but also with its booth at the conference hall.
Singapore Week of Innovation and Technology 2023
The Singapore Week of Innovation and Technology (SWITCH) is a technology and innovation conference held from 31 October until 2 November at Sands Expo & Convention Centre in Singapore. Organized by Enterprise Singapore, SWITCH serves as a global platform for fostering collaboration, knowledge exchange, and partnership building within the innovation and technology space. As such, it brings together a diverse community of entrepreneurs, investors, researchers, and policymakers from around the world.
Startup competition SLINGSHOT live finals
Well-known innovation competition SLINGSHOT will run its final event live at SWITCH. Organized by Agorize, the annual deep-tech startup competition propels emerging startups and their ideas into the limelight of the global stage. SLINGSHOT provides an invaluable platform for innovative minds to showcase their revolutionary concepts and solutions to a discerning panel of industry experts, investors, and thought leaders. With a reputation for fostering innovation and connections, the competition serves as a launchpad for startups to gain visibility, access resources, secure funding, and establish meaningful partnerships that accelerate their journey toward success.
We welcome everyone to join us as startups compete to win over S$1.2 million in prizes. 
Latest innovation tech at the Agorize booth
At SWITCH, we're offering attendees an exclusive chance to explore our innovation management platform in a unique way. Rather than traditional demos, the Agorize booth will be a space to launch innovation platforms, free of charge. By launching a platform, SWITCH attendees can effortlessly connect with innovators in their community. Whether they're employees, vendors, startups, or students. This enables them to understand and evaluate their ideas and implement the ones that align with their goals. Just like how Enterprise Singapore utilizes SLINGSHOT.
Learn more about this opportunity with Agorize at SWITCH 2023 here.
Innovation panels with leading experts
Each year, SWITCH organizes a range of panels covering a variety of innovation topics. Leading experts take the stage to share insights, knowledge, and best practices with the crowd. Agorize's Johannes Jaeger, VP of Global Enterprise, will once again be a panelist with fellow industry leaders. This year, they'll discuss how tech startups and corporations can collaborate for innovation.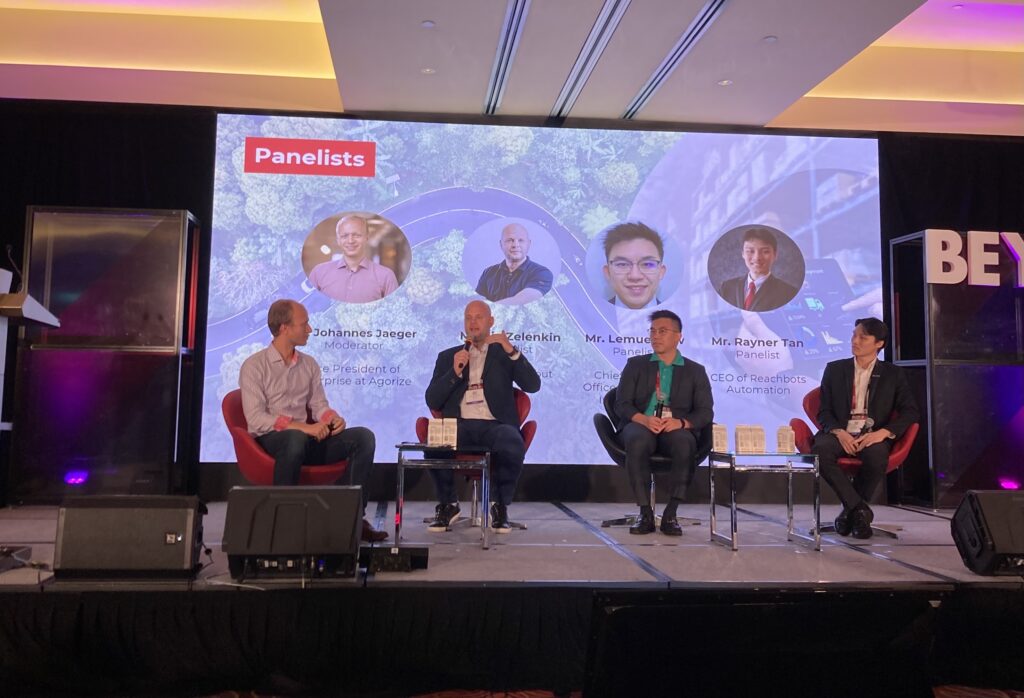 About Agorize
Agorize is proud to support SLINGSHOT with its innovation management platform connected to a unique community of 5 million innovators. Founded in 2011, Agorize helps global enterprise companies accelerate the innovation process from concept to full-scale implementation. Agorize's 300 clients uncover value-creating ideas and talent using the most comprehensive innovation management platform, connected to a community of innovators and supported by a team of experts.