Digital transformation produces all sorts of reactions – fear, skepticism, enthusiasm, and optimism. It isn't surprising that opinion within companies is so polarized! But whatever your opinion of it, the digital revolution is in full swing and shows no signs of slowing down. So how can you convince your employees of the benefits a technology project brings?
Businesses and their employees need to adapt in order to prevent themselves from being kicked out of the market. And it isn't enough to just invest blindly in digital tech to keep with the times – the transformation needs to be sustainable and take place at all levels.
Agorize explains how to successfully manage your digital transformation in five simple steps.
1. Identify your digital challenges
What is Digital transformation?
An opportunity to be grasped with both hands, or a fatal tragedy? It all depends on what you do. 87% of organizations see digital transformation as an opportunity to develop a competitive edge. But it's also a crucial change for the company's survival, according to 67% of executives.
The starting point for building an effective digital strategy is a good understanding of the digital challenges your organization faces. Digitalization doesn't mean that everything has to be changed, but you do need to take a close look at your products and processes. Where could new technology help you? What could it simplify? How could your products be improved? Identify which areas of your business can and should go digital.
However, when implementing their digital transformation strategy, managers often forget one thing: even before they wow their customers with digital technology, they first need to win over their employees to the new approach – which can be a lot harder. Why? Because of human beings' natural aversion to change.
2. Digital transformation can trigger change aversion
It's a well-known fact that people have an intense dislike of change. We like things that keep us within our comfort zone – and all the more so in the workplace. Why? In business, organizational change generally goes hand in hand with a significant drop in productivity, which can be really frustrating for experienced employees who generally perform at a high level.
It takes time to master new concepts, understand new technology and memorize new procedures. In the digital sphere, this is known as the 'W effect', and has been observed by two academics researching IT management, James D. McKeen and Heather A. Smith. According to this theory, when a new technology is introduced to a company, employees' productivity level follows four successive trends:
A sudden drop in productivity when the technology in question is implemented;
A slight productivity improvement after a few weeks, but still lower than the pre-change productivity level;
The second fall in productivity – less severe than the first – after a few months;
An increase in productivity to above pre-change levels once the implementation is fully complete.
Although new technology may seem attractive, before putting it in place, it's important to make sure that it'll bring real added value to the company – because the change will temporarily reduce productivity. And there's always the risk of the change failing.
To illustrate everything we've said so far, let's look at the example of a company that wants to put an intranet in place to simplify communication between its employees. Before, communication between employees took place via internal email or letter – so this is a big change! Now messages are sent instantly.
When the change is announced within the company, many employees will be skeptical. If the management team doesn't provide quick and concrete answers to their questions then the risk of the change failing increases – so it's essential to create a change management strategy from the outset in parallel with the digital transformation strategy.
3. Build a change management strategy
When you implement a new technology that affects a company's processes, it's crucial that you also put a change management strategy in place. Unlike the digital transformation strategy, which is primarily focused on the new technology itself, the change management strategy focuses exclusively on the users. How will employees react to news of the change? Will training be required? What resources should be made available to users to assist them? Here's what you'll need to plan:
Make a list of the perceived advantages and disadvantages
By making a list, you'll be able to focus on your digital project's strong points, but also the potential sources of opposition that it may produce. Remember – it isn't so much the actual characteristics of the project that we're looking at here, but the characteristics as perceived by users. Focus on everything that will make your team members enthusiastic supporters or stubborn opponents.
Returning to the example of the new intranet, the benefits are interactiveness, better communication, and developing a sense of belonging to the company. One potential criticism is the risk that employees will waste their time on the new system. Others include the addition of new procedures and the risk that no one will use the new intranet.
Plan out every step of your digital transformation
Murphy's Law is bound to arise – "Anything that can go wrong will go wrong." By carefully considering every stage of your organizational change, you should plan for all eventualities. It's a basic principle of project management – 90% of errors that arise during a project are down to insufficient planning. Whether you're organizing a major project (switching all internal communications to digital technology) or a medium-sized project (like our internal challenges), the better prepared you are, the easier it will be for you to convince others and react to a crisis.
Produce a communication plan
Digital transformation is a long process of evangelism. Although company executives are increasingly aware of it, a number of employees don't know about or misunderstand the phenomenon. That's why you need to organize every single aspect of the communication plan that will accompany your digital project. It's how you'll convince, reassure and guide users throughout the change.
Appoint a project manager
You must have a project manager who's responsible for your digital project and will act as a spokesperson. He or she will be the person your other employees turn to when they have questions. This helps you to avoid inconsistency and uncertainty by centering all decisions and communications around a single point of contact.
4. Create a winning coalition
No internal change can succeed without supporters. Typically, any new idea divides people into one of three groups:
enthusiasts (10% of members),
skeptics (10% of members),
and the undecided (80% of members).
However, in the days following news of the change, undecided employees will gradually be converted by one of the two minority groups. The ripple effect will spread quickly, so it's essential that you build a coalition of supporters who will help to promote your project.
These people will evangelize within the company, converting the undecided, so that when the project is put in place, the skeptics will have no choice but to go along with the majority. Target the people you think are favorable to your cause as early as possible. It'll only make the rest more effortless – and boost your chances of success!
5. Communicate during the transition and measure the results
Planning your digital project properly is important, but you also need to be able to put it into practice. And there's no shortcut to success – you need to make a time investment. Throughout the transition phase, make sure you're constantly monitoring the progress that's being made. Don't hesitate to:
Clarify the aims;
Intervene if a crisis arises;
Offer additional training if required;
Defuse tense situations;
Limit the extent or pace of changes based on the progress made;
Highlight successes.
You should also take the time to measure your results, both during and after the transition process. A lack of planning is the most commonly forgotten aspect of project management. Unfortunately, you can't improve something without measuring it. What mistakes did you make? Is your project a success or a failure? What has it inspired you to try next?
Set yourself clear KPIs – number of users, level of satisfaction, return on the resources invested, financial performance, implementation time, etc. Ask for feedback and be responsive, even after you've put the project in place. Even if you're tempted to launch right into a new adventure as soon as you've finished your project, it's important to look back now and again.
Discuss first, change later
Digital transformation can sometimes be a highly technical process. But that's no reason to look at it from a purely technical viewpoint – digitalizing a company's processes is also a massive managerial challenge. After all, before you even think about your digital transformation, you need to make sure that your employees' state of mind and behavior is ready to be transformed too…
At Agorize, we've organized over 100 employee challenges to help companies worldwide transform and reveal intrapreneurs. Get in touch with us for more advice on how to manage your company's digital transformation!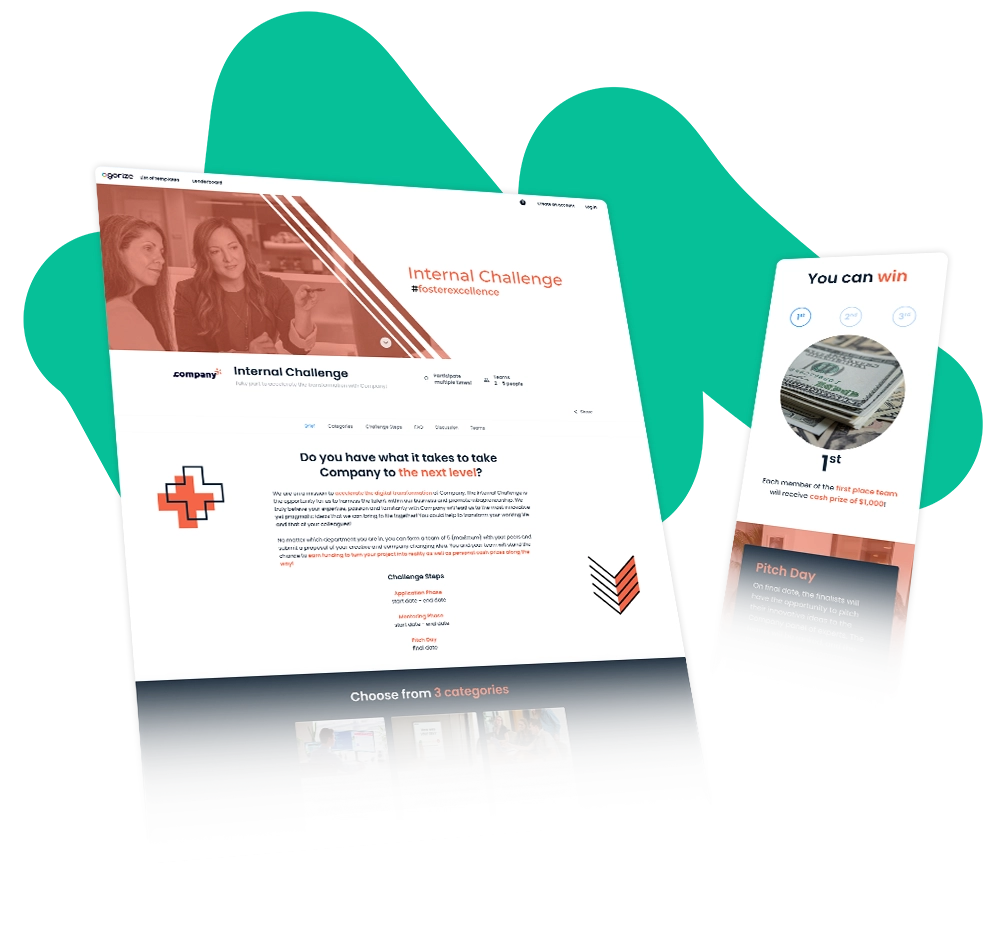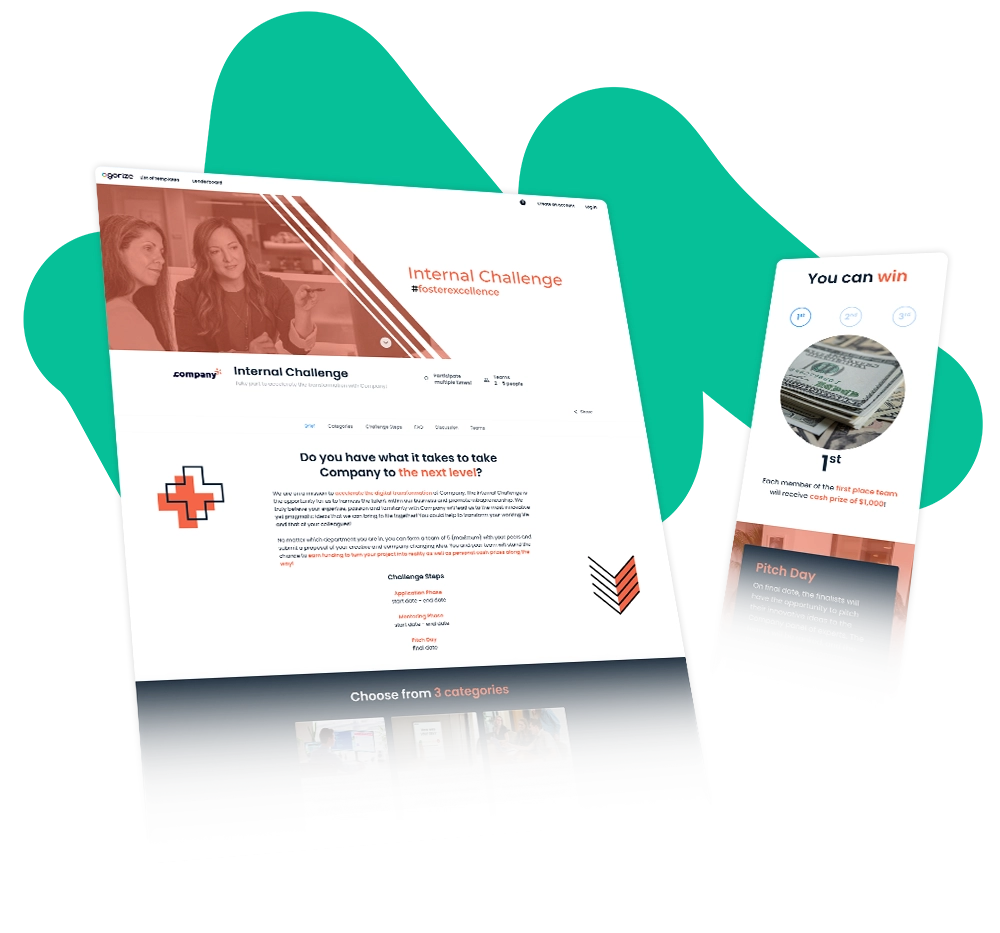 Digital change management made easy
Learn more about Agorize open innovation software and how it can help transform your business from within.
What is Agorize?
Agorize is the most comprehensive innovation management platform, supported by a team of experts and community of innovators. For over a decade, we've been providing technology powered by a community of 5 million innovators to foster change and accelerate innovation. Our clients and partners worldwide crowdsource, evaluate and develop solutions from startups, employees, developers and students using Agorize.

We've helped over 300 global enterprise companies in Europe, North America, and Asia Pacific, including Enterprise Singapore, Huawei, Microsoft, LVMH, PepsiCo, Bayer, Schneider Electric, Hitachi, L'Oréal and many more by running their innovation programs.
What is intrapreneurship?
Intrapreneurship refers to the idea of entrepreneurship within an existing organization. Entrepreneurship is often defined as the creation of a new business or idea that comes with great risk and great reward if successful. Intrapreneurship is considered less risky because it takes place within an established environment.
However, that environment also limits the autonomy of the intrapreneur. Promoting and boosting intrapreneurship has many benefits. Not only can it contribute to business growth and revenue, it also improves employee satisfaction and retention and talent acquisition of those with an entrepreneurial mindset.
What is an internal challenge?
An internal challenge, or internal competition, is a competition organized within a company to engage employees in finding new innovative solutions. Much like any innovation challenge, it includes clear objectives, problem statements and rewards. When done right, an internal challenge will have multiple positive impacts on the organization.
Not only will engaging employees on relevant business challenges lead to accelerated crowdsourcing, development and implementation of solutions that increase business growth and revenue. It will also foster a company culture of continuous improvement, increase employee satisfaction and retention and attract new talent to the company.