Accessibility is a journey towards a future where everyone can participate. According to The World Health Organization, over a billion people, about 15% of the world's population, experience some form of disability. Being one of the most innovative companies worldwide, Microsoft believes that they have the responsibility and opportunity to design and build technology that is inclusive and innovative.
To address this, Microsoft organized its first-ever AI for Accessibility hackathon in Asia Pacific with their Philanthropies team in 2019. It brought together over 400 participants in eight countries to conceptualize and prototype AI solutions that can transform the daily lives of people with disabilities. At the AI for Accessibility Hackathon, teams of university students and young developers worked side-by-side with their customers, partners, start-ups and non-profit organizations to tackle more than 23 different problem statements, identifying opportunities to use AI to build a more inclusive and accessible world around us.
Following the unprecedented success of the 2020 Microsoft APAC-AI for Accessibility Virtual Hackathon, they are back again THIS YEAR with the aim to change the lives of people living with disabilities.
Today, we are thrilled to invite Mr. Rahul Gokhale, the Senior Customer Success Manager APAC at Microsoft, to share a little more about the background and goals of this challenge.
Reveal The Story Behind this Challenge
Q: What is the story behind the launch of this challenge?
We first launched the AI for Accessibility Hackathon in 2019 with a goal of conceptualizing and prototyping AI solutions that can transform the daily lives of people with disabilities. This was an in-person event across all APAC countries and when Covid hit in 2020, we pivoted to a virtual event. I'm really excited that we are organizing the hackathon for the third consecutive year! This year's hackathon will be a virtual event as well; we kicked off the hackathon earlier this month and are taking sign-ups until March 2022 via our challenge page.
Participation is open to all our partners, ISVs, startups, independent developers and students across the APAC region.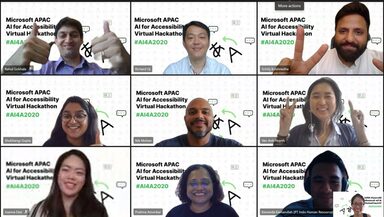 Q: Could you please tell us more about yourself and how you got involved with Microsoft AI for Accessibility Hackathon?
I'm part of the APAC Customer Success team at Microsoft and have been with the organisation for just over 2 years now. Me personally, I was inspired to join the Accessibility team after reading Pratima Amonkar's (APAC Accessibility Chair for Microsoft) post a couple of years ago. While I've been part of hackathons before as a participant, I'm grateful that I was able to be a part of the organizing team and work closely with an amazing team of passionate volunteers who made this happen together. I've found it to be an incredibly fulfilling and enriching experience.
About the Challenge
Q: What are the key challenges that Microsoft hopes to address through this program?
I was quite surprised when I first learned that over 1 billion people in the world (or one in five) have disabilities; in fact, almost every one of us will face some type of disability at some point in our lives, whether temporary, situational, or permanent. Unfortunately, only one in ten of us actually have access to the right tools or products. There is clearly a huge disability divide here and the APAC AI for Accessibility hackathon is one small way of contributing to bridging this divide.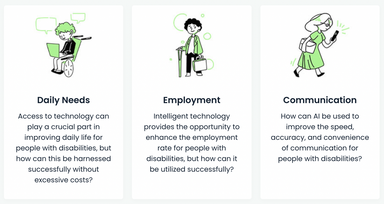 Q: What is the uniqueness of this challenge to consider applying?
I think what makes this hackathon really unique is that we are using problem statements or challenges based on real-world examples, gathered from non-profit organizations (NPOs) across APAC. The challenges are across 3 key themes – Daily Needs, Employment, and Communication. Some examples of these include: How can AI help create inclusive ATMs, How might we automate speech therapy for children with speech disabilities using AI, How might we automatically flag ableism in social media platforms, How might we make online learning more accessible to learners with disabilities, especially from rural communities- and many more. I would encourage everyone to visit our hackathon page and check out the other challenges for themselves.
Q: What sort of results does Microsoft expect from this challenge?
As I mentioned previously, there is a huge disability divide out there and a significant number of persons with disabilities don't have access to the right tools or products. Our primary goal for this hackathon is to build assistive tech and host it on the Azure marketplace so it is easily available for anyone to download and start using the tool. We are hoping to leverage this hackathon to generate ideas /solutions addressing some of the problem statements and then work with the winning teams to build their solutions and take them to general availability
Q: What advice/tips do you have for participants to make their application stand out?
That's a great question. I'd say – focus on the business outcomes first; it's ok if you are unsure of the tech or specific features of, say, Azure Cognitive services. You will have access to Microsoft resources after January 2022 who will coach and mentor you on how to build your solutions and take them to MVP (minimum viable product) and beyond.
Q: And finally, what is it that fascinates you or excites you about this challenge?
Microsoft's mission is to empower every person and every organization on the planet to achieve more. In my last 2 years here already seen how it's such an integral part of our core DNA and how we show up to work every day. At the risk of sounding cliched, I think Microsoft is one organisation that truly 'walks the talk' when it comes to diversity and inclusiveness and the AI for Accessibility Hackathon is a great example of that. We also made an accessibility commitment earlier this year and have a huge focus on accessibility by design in all our products and services. I'm excited about the innovation we can bring to solve real world challenges using assistive tech and hopefully making a small, tangible difference in the lives of those impacted by disabilities.