Recruitment without a CV, employer branding, ambassador programs, HR marketing… As a human resources professional, it's been a while since you heard about these concepts that speed up recruitment. I have good and less exciting news for you. The good news is that these techniques work. The challenge is that many companies already use them. How do you make things different to stand out? Innovate to stay ahead of the curve! Innovating in recruitment is not that complicated when you follow your target candidates' trends. The best thing to do is to adapt their communication codes and apply them to your recruitment process. Speaking the same language makes it easier to connect and engage. Recruitment in 2022 is more than ever about seduction, and today's forward-thinking companies have known this for a long time. I invite you to discover five innovative initiatives that have particularly impacted me in recent years.
A treasure hunt in banking
Participate in a treasure hunt made up of thematic mini-games to discover the company's business and win prizes: this is the principle of "Revealing the possible," the Groupe BPCE competition game. For three weeks, the candidates were able to take part in quizzes related to the Group's universe, a Pac-Man game, "one-armed bandit," or Connect 4… In short, there had a lot of fun and got gift vouchers. We love it!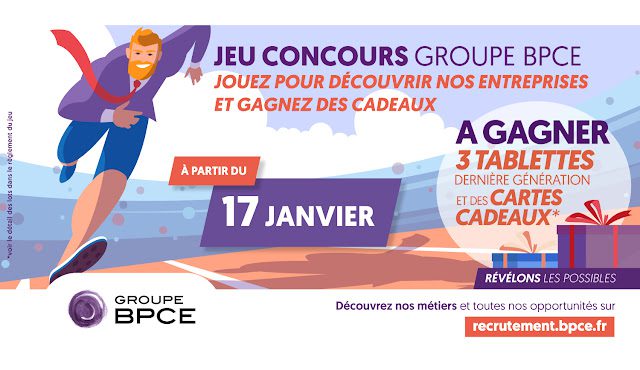 McDonald's Australia recruitment stories on Snapchat
McDonald's served the 1st Big Mac for the first time on August 22, 1967. What a historical anecdote. Fortunately, McDonald's has innovated in more than half a century, and recruitment is not left behind. Its Australian subsidiary launched a few years ago a Snapchat filter "McDo team member cap and badge" through which candidates could introduce themselves in 10 seconds and specify their motivations for working at McDonald's. Once the brand's recruiters received the videos, they could initiate the recruitment process. Isn't it ingenious?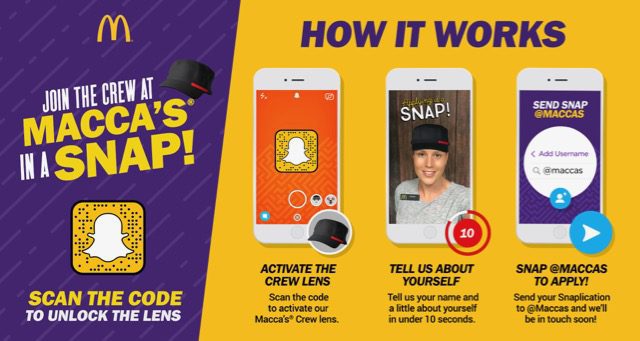 The imperfect (perfect) recruitment in business consulting
Who said web series are potential "spoilers"? Mazars' employer branding team created nine episodes featuring candidates who seem to have made a mistake during a job interview; however, the company still recruited them! Hence the name of the web series, "Nobody's perfect." Mazar's innovative recruitment strategy settles as an example that minor blunders do not prevent great careers. An original employer brand initiative to discover right here:
Original and bold recruitment campaign in the sports industry
It would be impossible for me to talk about innovation in recruitment without mentioning the bold and original campaign by the sports retailer Decathlon, which has caused many talks. Decathlon's recruitment initiative "Come in shorts for a job" is a half-day or a full-day activity consisting of collective workshops and individual interviews. The objective is to identify the skills of the candidates. A sporting event is also on the program, not to beat Usain Bolt's Chrono (though), but to analyze the candidate's leadership abilities through the prism of the six skills of the Decathlete:
Athletic
Helpful
Precise
Vital
Responsible / Committed
Collaborative
"Come in shorts for a job, and we welcome it. Except for the winter when it's cold!
Speed recruitment in largest equipment rental groups
The construction hardware rental group Kiloutou has just announced 1000 new recruitments to support its development. The company's innovative approach in recruitment helped them hire new talent fast and involve them in Kiloutou's transformation, contributing to an accelerated growth velocity. Career websites and other job boards often require much effort: endless forms, CVs that must follow a specific format, cover letters that won't be necessarily read. And in 64% of cases, these applications are left unanswered. Many candidates know this because they experience it every day. Kiloutou offers something different, not to mention particularly innovative and original. Kiloutou's concept of "speed recruiting" presented as booking a discussion through Lunch table on its job site. The candidates can choose a slot according to their and the recruiter's availability to meet for an interview and eventually network. Simple as that. We love it! Link to the platform.
In summary
Candidates no longer want "Old-fashioned" recruitment. Many recruiters are tired of it too. What if the time had come to reconcile supply and demand by innovating? As we have seen through these few initiatives, a few ideas are enough to make a difference. We bet that you also have plenty of good ideas in mind! Do you dare to recruit differently?
Guillaume COUDERT
Associate Director at Agorize
Expert in Employer Branding – Moderator of the blog MarqueEmployeur.net