Agorize is the leading Enterprise platform for innovation management and employee engagement.

April 28 14th, 2023 – Agorize today announced Agorize INNOVATION has achieved a Leader Award by g2 once again, the world's largest and most trusted software marketplace. This recognition is based on the responses of our clients on g2.com reviews.
"The first time, it was a major step for us. Maintaining this performance is the recognition of our willingness of all our teams to increase the scope of our platform and the quality of delivery. Our 2023-24 roadmap is the richest ever!"

– Christophe Pingard, CEO Agorize

Agorize achieved Leader on the G2 Spring Report 2023 by receiving positive reviews from verified clients and users compared to similar products in the Idea Management Software category.

"Rankings on G2 reports are based on data provided to us by real software buyers. Potential buyers know they can trust these insights when researching and selecting software because they're rooted in vetted, verified, and authentic reviews."

– Sara Rossio, Chief Product Officer at G2.

Learn more about what real users have to say and or leave your own review of Agorize INNOVATION on G2's Agorize review page!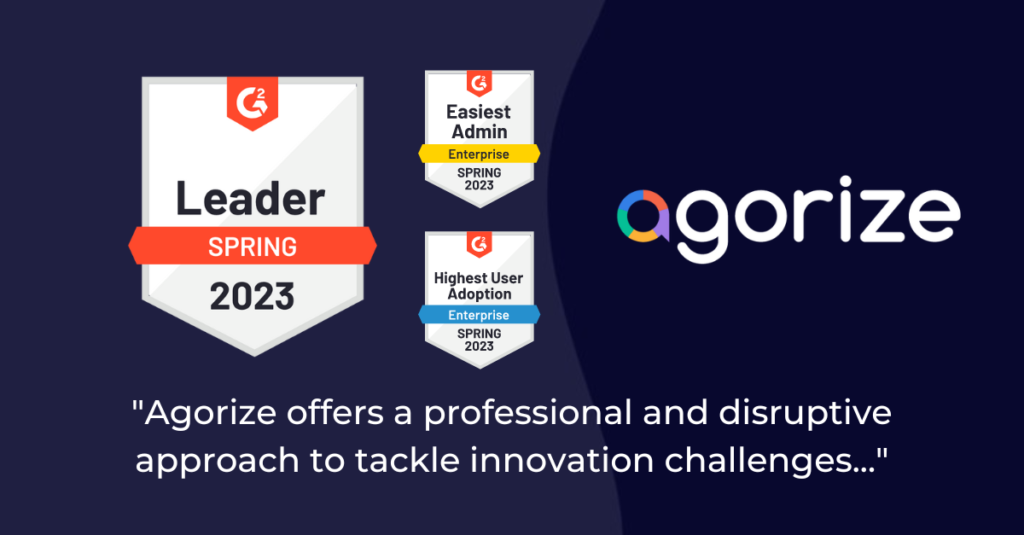 About G2
G2 is the world's largest and most trusted software marketplace. More than 80 million people annually — including employees at all of the Fortune 500 — use G2 to make smarter software decisions based on authentic peer reviews. Thousands of software and services companies of all sizes partner with G2 to build their reputation, manage their software spend, and grow their business – including Salesforce, HubSpot, Zoom, and Adobe. To learn more about where you go for software, visit www.g2.com and follow G2 on Twitter and LinkedIn.

About Agorize
Agorize is a technology company that helps organizations in their transformation projects.
Agorize publishes an innovation management platform connected to a unique community of 5 million innovators and supported by a team of experts. Founded in 2011, Agorize helps global enterprise companies accelerate the innovation process from concept to full-scale implementation. Agorize's 300 clients uncover value-creating ideas and talent using the most comprehensive innovation management SaaS platform.

Press contact
Alexandre Barthel | Agorize Marketing Director

Media