In today's digitalized world, information management and security have become an absolute necessity. For major international groups, ensuring information security is of paramount importance. Especially when it comes to innovation management, an essential cornerstone of organizations' development and competitiveness. This is where ISO 27001 comes in.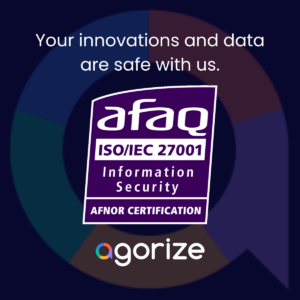 1. What is ISO 27001?
ISO/IEC 27001 is an international standard dedicated to information security management. Adopted and recognized worldwide, it describes how to implement a certified Information Security Management System (ISMS).
The objective? To protect sensitive information, whether printed, stored electronically, transmitted by mail, or via electronic means. It also aims to prevent and minimize information security risks.

2. The importance of choosing an ISO 27001-certified software partner
When it comes to innovation management, the data that is handled is often sensitive: concepts, innovative ideas, problem reports, strategic information or personal data… keeping all of this information secure is essential.

Increased confidence: Choosing an ISO 27001-certified software partner ensures that information security management is taken seriously. This certification is a guarantee that the software partner has implemented rigorous procedures to protect your data.

Risk minimization: The risks associated with information leaks, cyber-attacks, or any other form of threat are considerably reduced, thanks to the enhanced security measures implied by the ISO 27001 certification.

Regulatory compliance: Many sectors require their partners to comply with certain security standards. Choosing an ISO 27001-certified partner makes the choice easier: this compliance provides peace of mind for all CIOs, avoiding complications during inspections and audits.

In today's fast-moving environment, where information security is paramount, choosing an ISO 27001-certified software partner gives you a headstart. This is a major asset in reassuring your stakeholders and strengthening your market position.

3. Agorize and ISO 27001 certification: a guarantee of security for our customers
We are proud to announce that Agorize is now ISO 27001 certified. This certification confirms and validates our ongoing efforts to ensure the security of our customers' information. In addition, it solidifies our firm commitment to maintaining this level of excellence in data protection.

Since 2011, Agorize's commitment to information security for our customers and our community of innovators has gone from strength to strength. Our certification attests that all the information you entrust to us and our software is managed with the highest level of security.