What's the nightmare scenario that keeps all hackathon organizers awake at night? It's got to be the fear of a complete flop – getting a lot fewer participants than they'd hoped for.
To help you avoid this catastrophic situation, you need to put effective communication in place before your hackathon. After all, even for the biggest brands and the best-known organizations, winning over the attention of your target communities (students, developers, or startups, to list just a few) isn't easy. Why? Universities and startups in particular are in high demand and are contacted by a lot of outreach campaigns, many of which are poorly targeted and irrelevant.
So standing out from the crowd is no mean feat. We've organized 250 hackathons for 200 clients, and we're using this experience to share our advice on foolproof tips to promote your hackathon.
What is a hackathon?
The term hackathon is a portmanteau of hacking and marathon. They are events organized to fast-track the ideation and development process of technical solutions like an application or software. They are a valuable tool when done successfully, as they can lead to significant progress in a matter of hours or days.
Originally, it was teams of computer programmers, tech project managers, and UX designers that would participate. Nowadays, hackathons have become a term used for a broader range of events aimed at building solutions with others in a short period of time. A hackathon is usually presented as a competition. A group of mentors and a jury guide and assess participants, and will award those that executed the assignment best.
Press releases and PR measures
Inform the media that you're launching your hackathon. This is step one. A well-written and well-targeted press release will have a huge impact on participation in your hackathon. You should make sure you set out your aim, the issue you're addressing, the theme, the timeline, the benefits for participants, and the prizes you have on offer.
When writing your press release, it's important to remember that the journalists or bloggers who read it aren't aiming to do your advertising for you. They share content if it will interest their audience. That's why it's best to tailor your accompanying message to suit the media you're targeting. In addition, the way you write your press release is all the more important given that in most cases, journalists just copy the entire content without making any changes – hence the need to pay careful attention to your writing and how the information is presented.
Carefully target your press release
A poorly targeted press release – even if it's well-written – will have a very limited impact. For hackathons, you should focus on the tech, innovation, HR, and marketing ecosystems. Remember – the benefits of hackathons mainly fall within these three areas:
Innovation, due to the novel solutions put forward in response to your existing challenges
HR, to boost your employer branding and help you identify and recruit talent
Marketing and communication, to increase the number of people you reach when launching a hackathon (around 300,000 people)
The media you contact will vary based on your hackathon's aim, theme, and target community. For example, if your hackathon is aimed at startups and its objective is innovation, you may want to send your content to sites such as Inc.com or Entrepreneur.com.
If you get it right, people from these communities will be only too pleased to write about your hackathon. Don't just restrict yourself to contacting journalists – influencers and bloggers can also be excellent ways of relaying information.
Twitter, Facebook, and Instagram posts
Announce the launch of the hackathon on all your social media. Creating a digital strategy is a truly effective technique. As well as the chance to speak directly to your followers, social media also allows you to get your target communities involved and build a direct relationship with them. There are several ways you can boost engagement across a range of social media:
Facebook
Create a page that's dedicated entirely to the hackathon. This gives you an effective way of communicating with your participants without running the risk of overloading your other followers with posts. Post whenever you have important information, around three to four times a week. If you don't want to create a dedicated page for your hackathon (given the amount of time and effort this requires), we recommend that you publish one or two posts (no more to avoid inundating your followers) on your company's public page. Create a public event to boost engagement among your users. Be responsive and reply quickly to messages and requests
Twitter
On Twitter, it's best to post more regularly than on Facebook (three or four times per day) to encourage engagement and to ensure the message is passed on. Identify and communicate with relevant communities using hashtags. Be responsive and interact with users.
LinkedIn
LinkedIn can be useful for hackathons that are aimed at startups, and can also be used to seek out startups to take part
Instagram
As Instagram is the social media platform that generates the most engagement, it can be very beneficial if you publish posts using relevant and original hashtags to maximize visibility and make the most of an extremely active user base (#hackathon, #openinnovation, #innovateordie are some examples)
We strongly recommend that you choose a dedicated hashtag for your hackathon so you can monitor the online activity it creates. The hashtag will also be really useful after your event has finished, allowing you to assess the hackathon's impact. Finally, get your employees on board (use internal emails, displays on the intranet, and posters at your premises, or hold a launch event) to get them to share the news.
Twitter, Facebook, and Instagram ads
To maximize your hackathon's visibility, it's highly recommended that you use social media advertising. For a small cost, you can easily extend the reach of your marketing efforts using ads, which give an excellent return on investment.
For hackathons aimed at students, developers, and startups, the best platforms are Twitter, Facebook and Instagram. When creating your advert, keep your target audience in mind and don't forget the best practices, including:
Use targeting features (age bracket, interests, location) to the full
Test different versions of your ad to see which have the best conversion rates on different social media sites
Create adverts with mobile in mind
By adopting a social media advertising strategy, you'll easily reach people outside of your networks, attracting participants who otherwise would never have even heard of your challenge!
Communication with universities, incubators, accelerators, etc.
If you're targeting startups
Contact incubators and accelerators, and even co-working spaces. It's a win-win situation – they spread the word about your hackathon and encourage startups to register, and the startups that they are incubating get a visibility boost and have the chance to secure new partnerships.
If you're targeting students and developers
Contact teaching and administrative staff responsible for the courses, universities, and colleges you're hoping to target and tell them about your hackathon. Watch out – universities and colleges are in high demand and may seem uncooperative when you contact them.
Once you've made contact, don't stop there. It's important that you look after your relationships with universities to maintain them in the long term. And to do this, there's nothing quite like regular visits in person to your partner campuses – they're an ideal opportunity to demonstrate your enthusiasm for your partnership. If you haven't yet got your foot in the door of the academic world, we recommend that you contact a well-established intermediary (such as Agorize, for example). This will give you direct access to their network, and you won't have to contact each institution directly.
Events
Invest in events that will attract your target communities – depending on your needs, these could be student fairs or public exhibitions, startup conferences, or tech and recruitment events. Being physically present is essential and has a huge impact. It means you can build real relationships with your target communities and create a strong impression. Make sure you have physical media you can display and hand out at the event – such as posters, banners, flyers, and goodies. But most importantly, send a team of motivated and determined individuals!
Maintain your efforts
The hackathon's about to begin. You've followed our advice and put a huge amount of effort into outreach – and as a result, you've attracted a considerable number of people! But this doesn't necessarily guarantee a high participation rate. That's why you need to maintain your outreach efforts throughout the hackathon. You should use:
Email campaigns
Plan to send at least three emails to remind registered participants to submit their projects on time: 10 days before, three days before, and on the day of the deadline.
We recommend that you also remind them of the prizes that are up for grabs as well as the total number of participants, teams, and projects submitted so far. It's a good way of motivating teams that haven't yet submitted their project.
Social media
It's crucial that you create a publishing schedule for your social media posts throughout the hackathon. Your community managers will maximize engagement with the public by being reactive and by replying in real time to people who mention your hackathon and your company. Organizers and participants interact most via social media. Participants will contact you whenever they encounter problems. Hence the need to be reactive: if a participant is unhappy and doesn't get a response, they might lose interest in your hackathon. Even worse, they could create a negative buzz around the whole event!
The final word
Whether it's for a birthday, a leaving party, or a hackathon, one of any organizer's biggest worries is that the event will be a flop.
As well as supporting innovation and marketing within a business, hackathons also improve your employer branding. But advertising and communicating about your hackathon in the wrong way can have the opposite effect – instead of boosting your employer branding, you'll damage it!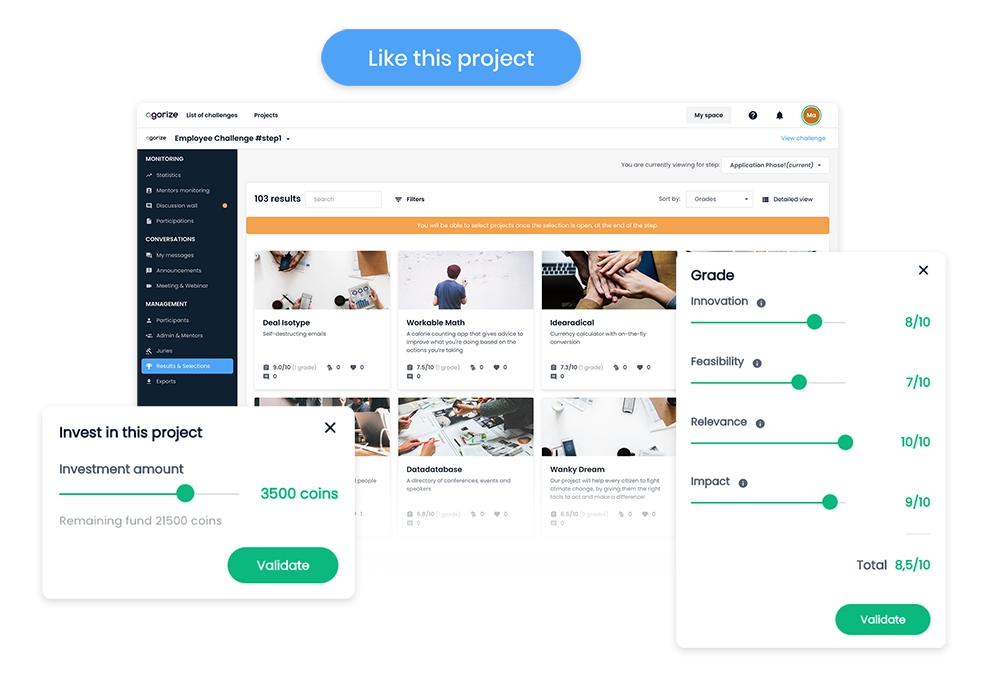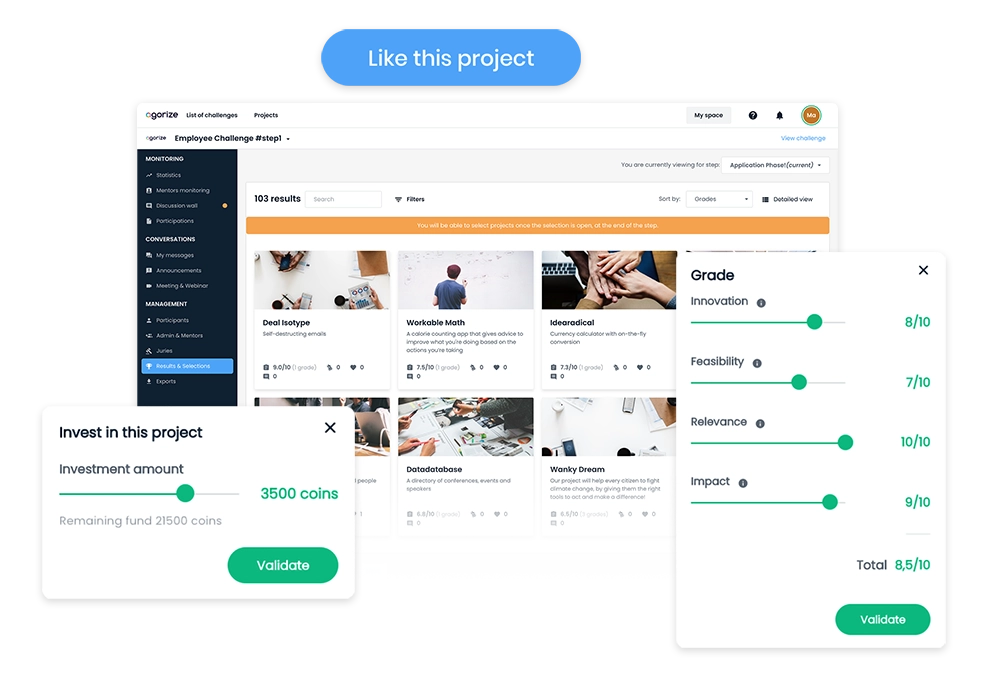 Hackathon made easy
Launch your hackathon with Agorize. Leverage our user-friendly platform to access our community of 1 million developers.
What is Agorize?
Agorize is the most comprehensive innovation management platform, supported by a team of experts and a community of innovators. For over a decade, we've been providing technology powered by a community of 5 million innovators to foster change and accelerate innovation. Our clients and partners worldwide crowdsource, evaluate and develop solutions from startups, employees, developers, and students using Agorize.

We've helped over 300 global enterprise companies in Europe, North America, and the Asia Pacific, including Enterprise Singapore, Huawei, Microsoft, LVMH, PepsiCo, Bayer, Schneider Electric, Hitachi, L'Oréal, and many more by running their innovation programs.