L'Oréal Brandstorm Innovation Competition
No. 1 beauty company in the world L'Oréal continuously seeks out new talent and ideas with its global innovation competition Brandstorm. They use the Agorize platform to evolve and expand this iconic program, driven to stay the best in their field. 
When employer branding meets innovation
Beauty industry leader L'Oréal is a pioneer in innovation competitions, organizing its global innovation program Brandstorm every year since 1992.
In the latest edition, L'Oréal invited young innovative minds to submit ideas to create the beauty of the future, with sustainability and inclusivity in mind.
With the Agorize platform, L'Oréal engages and upskills a global community of hundreds of thousands of young people. Participants use the Agorize platform to form teams, go through the learning path and submit their innovative ideas efficiently.
As a result, the group expertly expands its established employer brand position and hires hundreds of talents.
L'Oréal's objective
Prepare the change-makers of tomorrow for today's job market in one immersive learning experience.
Collectively shape the future of beauty through immersive learning
L'Oréal Brandstorm participants form teams to solve a real business case while simultaneously participating in an immersive learning experience. Talents acquire skills through teamwork, online learning and mentoring by L'Oréal experts, which they apply in their projects to compete for the main prize. The winners get a 3-month intrapreneurship position at L'Oréal HQ in Paris. 
Each year, the participating teams are challenged to think of solutions leveraging contemporary and relevant concepts and technologies. 
In L'Oréal Brandstorm 2023, participants were invited to come up with ideas that will crack the new codes of beauty using:



Artificial Intelligence (AI)

Globally, L'Oréal Brandstorm is an important employer branding initiative as well as a recruitment tool that allows L'Oréal to reach thousands of young people in the beginning stages of their careers. The group cultivates a large pool of qualified hiring potential and acquires valuable insights about their (future) customer base.



Foster true collaboration at scale, on a local and global level
L'Oréal needed a solution that facilitates large-scale collection, mentoring, assessment, and development of ideas and talent. 
The Group had to empower local L'Oréal teams to engage local talent, and then transition to a global playing field to select and guide the finalist teams. Agorize's innovation management software was used to deploy the full Brandstorm operation.
The Agorize platform provided a full suite of features to support L'Oréal's diverse needs. Features included: 
a completely branded platform build
autonomous team formation for participants
in-app submission of deliverables
gamified and custom scoring and filtering options
invitation-based collaborative features for judges and mentors
and multiple communication methods. 
L'Oréal deployed Agorize's software in 70+ countries, offering participants and L'Oréal teams a best-in-class experience. 
A survey with 500+ respondents showed that 94% of participants found the platform easy to use.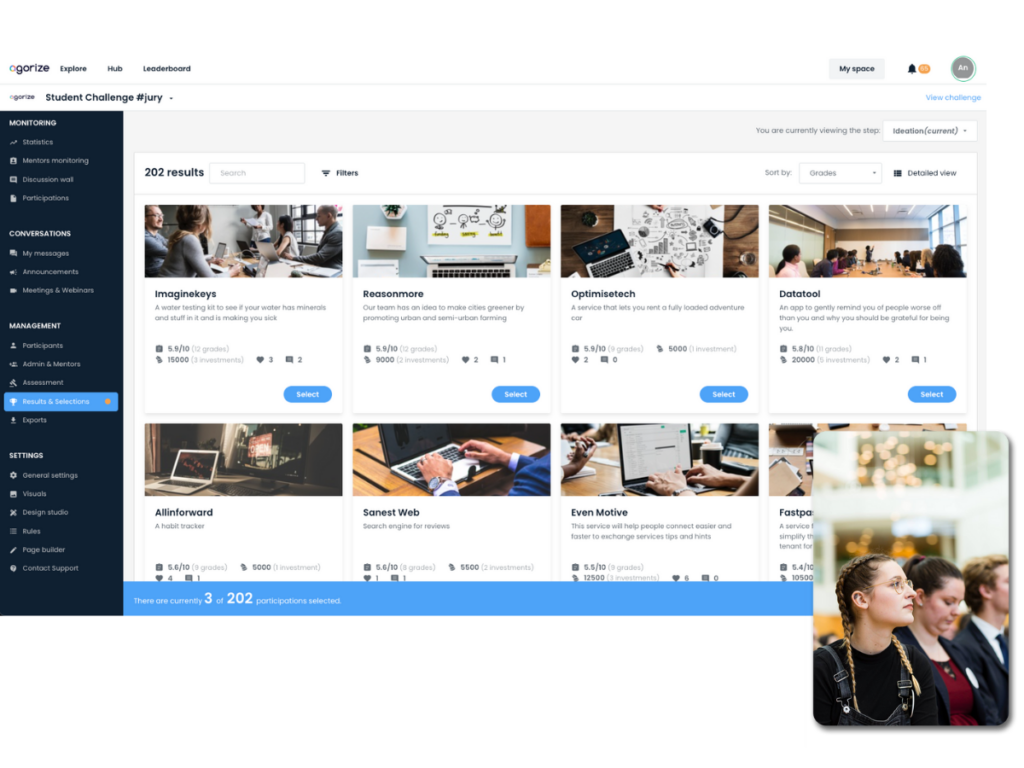 92,000 participants, hundreds of hires and a powerful employer brand
L'Oréal successfully engaged over 92,000 participants from 72 different countries.
Of all participants, 30% had a STEM (science, technology, engineering, and mathematics) background.
Finalists presented their pitch during the final event in front of an executive jury at tech conference VivaTech. The winners were awarded a 3-month internship at L'Oréal and continued to develop their projects with the team.
The hiring power of the innovation competition is phenomenal. Every 3 out of 4 participants plans to apply to L'Oréal.
In 2022 alone, L'Oréal hired 500 Brandstorm participants worldwide. The 2023 edition has resulted in 300+ hires and counting.
Agorize enables L'Oréal to continuously promote innovation in the beauty industry and give young people a voice to shape the future of beauty
Accelerate innovation like L'Oréal with an open innovation competition