Hackathons first appeared at the very end of the 20th century and has since spread beyond the borders of the United States and Silicon Valley. At first, the 2000s saw the growth of this trend among a tech audience, mainly engaging developers, hackers and programmers. However, its success quickly spread beyond this tech community. Large companies regularly launch hackathons nowadays. Today, hacking is no longer just about coding. These events are open to a wider audience. It has become an indispensable tool to foster the creative process and optimize innovation management for enterprise organizations. In fact, for many, hackathons have become such a multi-faceted and impactful tool, that the way you execute it largely determines the value your company gets from it.
What is a hackathon?
Definition of hackathon
The term hackathon is a portmanteau of hacking and marathon. They are events organized to fast-track the ideation and development process of technical solutions like an application or new software. They are a valuable tool when done successfully, as they can lead to significant progress in a matter of hours or days. Originally, it was teams of computer programmers, tech project managers and UX designers that would participate. Nowadays, hackathons have become a term used for a broader range of events aimed at building solutions with others in short period of time. It is usually presented as a contest. A group of mentors and a jury guide and assess participants, and will award those that executed the assignment best.
Conventionally, it lasts from 48 to 72 hours. However, with this short time frame creates temporal, logistical and geographical limits for the organizing party. As such, it creates an environment that is not very supportive of innovation. Imagine the colossal efforts required to organize a perfect hackathon over 48 hours. You have to find a place that allows a large number of people to gather and work at a crazy pace for more than two days, without a break. On the attendees' side, you have to form teams, identify problems to solve, build a prototype and build the business case in record time. Will the quality of each project be up to par?
The limits of the traditional hackathon
For both the organizers and the participants, being 100% busy for several days without interruption can affect the quality of the experience and the proposed solutions. Indeed, in 48 hours, few people can identify a real need and then create a project or a developed and functional prototype to meet these needs.
In its traditional form, diversity is at stake as well. A common set of profiles includes developers, UX designers or product owners. This homogeneity of the teams becomes a real obstacle to innovation and often isn't inclusive. It has an impact on the quality of the solutions provided. As such, alternative options should be, and have been successfully, explored. When looking for a model that ticks all the boxes, the answer may not be found in a 100% physical or 100% online model. We encourage an 020 methodology instead. The Online-to-Offline method seems to strike the right balance between flexibility and framed collaborative creation.
Why organize a hackathon?
Hackathons are different from the classic innovation management process. Organizing hackathons instills more agility in your innovation process. You call upon collective intelligence within your organization and more widely your external communities. Innovators from your ecosystem propose innovative solutions and pitch their project to a panel of judges. This is a great way to identify good initiatives and new technologies. In addition, you help teams develop them during the contest and in real-world settings by placing them in an incubator, for example.
Thanks to the hackathon, you stay competitive by improving or developing new products, services or processes with the help of the brightest minds with diverse backgrounds. You reduce the time and cost of your innovation process. This type of competition also allows you to highlight team spirit, creativity and innovation as values of your organization. Organizing an innovation contest also creates the unique opportunity you to identify the next generation of promising talents and improve your employer brand.
How does a company create value through a hackathon?
Innovation hackathons helps companies create value by allowing it to quickly assemble a team of talented people to work on innovative and creative ideas. Participants work in a space where they can freely explore their ideas and implement them in a short period of time. As such, innovation hackathons help a company identify opportunities for growth and development that may have otherwise been missed. When done right, it also strengthens the company's innovation culture and attracts new talent.
Innovation management is becoming a major lever for talent management, both to reinforce the attractiveness of a brand and to retain employees. These innovation contests increase the participants' intention to start a new business by more than 30%. There is no negative effect, even if their proposal strands. On the contrary, we have observed that the majority of participants strongly bond with the organizing brand (Agorize 2020 study in collaboration with Arnaud Banoun – Researcher and teacher at ESC).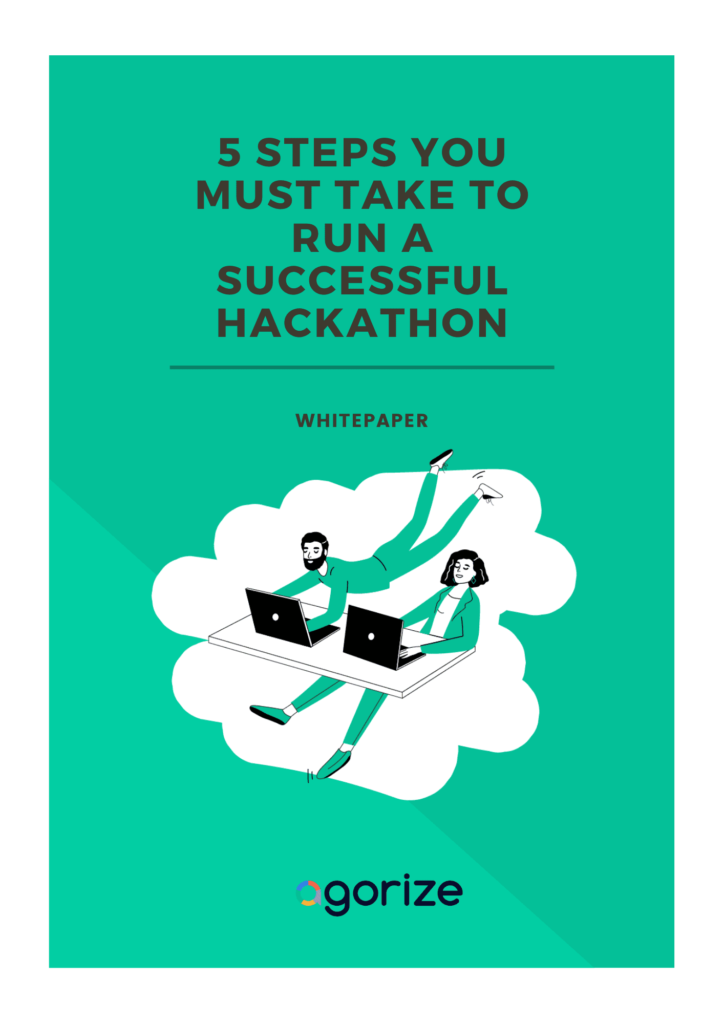 Hackathon whitepaper
Download our whitepaper to learn what 5 essential steps you must take to successfully organize your own hackathon.

Advantages of online hackathons over traditional hackathons
Faced with the imperfections of the traditional 48-hour hackathon, new devices and technologies have emerged. Large organizations and talent welcome the creation of online platforms dedicated to hosting hackathons with open arms. These idea management tools have been designed to overcome the shortcomings of the traditional model by optimizing timelines, enabling coaching and empowering global and diverse collaboration.
Optimized timelines
As mentioned earlier, running hackathons in just 24 or 48 hours can be a real handicap for everyone involved. Lacking the time to finish your carefully crafted solution is as unsatisfying as it is useless. By migrating your physical hackathons to an online platform, you allow more time for the teams to work on solutions. This will allow for product-market fit validation, a crucial foundation for the success of any new product or service launch. By implementing this new and optimized timeline, dropout rates will decrease. As there's enough time to form teams and finish projects, talent will see their work through until the final presentation session in front of key stakeholders. Finally, participation does not depend on the availability of the participating talent but on their ability to spread the work over several weeks in order to meet the deadline.
The value of coaching
During a physical hackathon, mentors or subject matter experts either move across the room randomly or gather in a corner. Neither turn out to be very efficient. But participating talent does actually need to be coached. Unfortunately, some teams are not confident enough or simply too busy to seek out this support. Add to that there are not enough experts to coach all the teams when organizing a 24-48 hours event. As such, by spreading the contest over several weeks, teams can be assigned coaches based on their specific project. These industry experts will then guide their teams so that they can best respond to the problem at hand.
Depending on the platform you use, teams can contact the mentors regularly to ask them questions and keep them informed of their progress. This also allows them to ensure a real follow-up of their assigned project. They can, when schedules allow, dedicate time throughout the duration of the competition to support the teams.
Global collaboration
The best talents and great ideas are everywhere! By limiting your hackathons to a specific (physical) location, you may miss out on the solution you are looking for. By launching a global hackathon online, the physical location of the participating talent no longer matters. As a result, the quantity and quality of submitted ideas will be better. You may even find that the problem you are trying to solve has already been solved in another part of the world.
The O2O hackathon: the best of both worlds
The O2O (Online-to-Offline) format combines all the advantages of an online hackathon platform with the excitement of a physical hackathon. In the online phase of the contest, talent forms teams, brainstorms ideas and makes first drafts and submissions. All these things can be done virtually, especially when supported by a platform that has video conferencing and chat features to remain in close contact with the organizers. Many companies will then implement an assessment round as well to determine which teams should proceed to the next round(s).
Then, during the offline part of the hackathon, finalist teams meet with mentors who coach them and help them improve their project. This stage is just as crucial as the project development period, as it offers the opportunity to make the final adjustments needed to climb to the top of the podium. The coaching phase is followed by the grand finale. During this event, the finalists present their project to the jury of the organizing company. This face-to-face meeting allows the jury to decide between them and to designate the winners.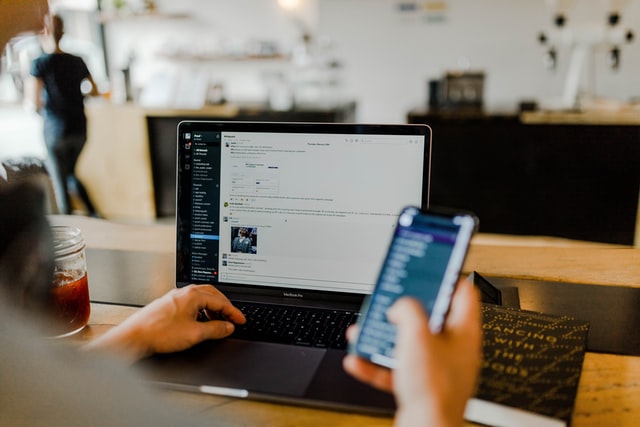 Different types of hackathons
The talents you target for your hackathon can be internal or external to your organization. Here are the three audiences that hackathons can revolve around, beyond the widespread hacking or developer communities.
Internal employees
The internal hackathon calls on your existing employees. They are solicited to answer a challenge that you present them with on your platform. Who know the main bottlenecks within your organization better than your employees? Or even more importantly, which solutions might solve those pain points?
Beyond identifying and developing innovative solutions, detecting and solving a problem or sharing good ideas, the internal hackathon promotes employee commitment. You boost their involvement within the company by highlighting their know-how, expertise and experience. You bring out the intrapreneurial spirit in them while improving collaboration between teams and employee loyalty.
Startups
By proposing a startup innovation challenge around your strategic issues, you create a space to detect and support innovative startups and entrepreneurs. This support can be provided through the creation of their mobile apps prototype to meetings with investment funds and the launch of their innovative project. New products, new services, reduction of production costs, the most promising startups of your sector can give you a significant competitive advantage. Thus, the winner(s) can become a potential partner to continue to grow your organization. During the Mondial de l'Auto 2022, a hackathon dedicated to mobility was organized, in order to identify solutions from startups around the world. They had to propose their concrete ideas for new ways to revolutionize the automotive sector. The prize: maximum exposure on a dedicated stand throughout the week of the show, coaching from experts and a place in an incubator.
Students
Student hackathons help you identify talent that will become assets for your organization. Often by working together in teams, they need to create a solution for a problem that you have chosen. The mentors can intervene to help them develop their project and your jury will choose the winning team. L'Oréal and its Brandstorm event is a very good example. This large organization has been organizing the event for over 30 years. It calls on young talents from all over the world to work on innovation issues. In addition to identifying the best talents, the competition also allows the company to augment its employer brand.
Checklist for a good hackathon platform
The platform you host your hackathon on largely determines your success. Any platform you use, whether built by yourself or with an innovation partner, should have the following basic features.
Basics for organizers:
Access to all participant profiles
Direct, online access to all submitted projects without having to download

Basics for talent:
Online registration
Online team formation capability
Features to submit projects and deliverables via the platform

If you adopt these features, you will be sure to get a functional platform. But it's not very user-friendly yet. We advise a number of features to optimize the experience for organizers and participating talent.

Optimized experience for organizers:
Customizable templates for platform design
Online voting and ranking functionality
Option to include external voters
Option to mentor participating talent online
Dashboards with real-time KPI-based statistics
Access to the talents' public discussion wall to interact with them
Ability to export profiles and projects
Gamification and communication features to boost engagement

Optimized experience for talent:
Interface to find other team members
Online collaboration and information sharing features
Receive coaching directly through the platform
Public discussion walls
Share the hackathon and your project on social networks
Communication via a chat and/or a video-conference module
Personalization of working environment with documents, photos and video
How to choose your platform?
When deciding how to build your platform you have a couple of options, each with its own benefits.
On the one hand, you can create your own platform. Some advantages:

Develop a platform tailored to your needs
Make the most of the resources your company already has (IS, intranet, internal social networks, etc.)
Build a database of talent that you will be the sole owner of


However, doing this by yourself is extremely costly and time-consuming. Launching a hackathon in only a few weeks if you start from scratch is simply not possible. Hence option number two. Use an existing hackathon platform. This provides you with an already packaged and turnkey offer. In this case, you can expect the following extra benefits:

A matchmaking algorithm allowing people to form multidisciplinary teams and find the best teammates
A public space dedicated to discussion and information sharing between platform users (organizers and their audience)
Online coaching sessions
An online voting interface for organizers
A dashboard allowing to consult the challenge statistics in real time
Launching a hackathon with an innovation partner is not just a way to be more in tune with the times. Above all, it's an opportunity to allow the best ideas to find the ideal springboard to showcase themselves and obtain quality deliverables. Moreover, the competitive context in which hackathons take place, online or offline, have a real stimulating effect on teams. That's why some specialized companies like Agorize have started to develop O2O methods (online to offline, or hybrid), which combine the best of the physical and online hackathons.

Conclusion
Hackathons allow companies to identify innovative solutions to remain competitive but also the talents that form its future. Thanks to an online platform, the hackathon also breaks free from geographical and logistical limits. As talent submits and develops their project online, the hackathon is also free from time constraints. Coaches and experts can support the teams throughout the contest. Because of this, they ensure that the projects remain aligned with the needs of the company.
Innovation competitions can now extend over several months to allow time for existing projects to mature. This is how the "out of the box" solutions so sought after by large companies are created. The organization of a hackathon that lasts several months allows solution development to be completed. This solution will then add value to the company in the long term.
But that's not all! Putting a hackathon online also encourages the formation of multidisciplinary teams. By hosting it on an online platform, you create a welcoming environment with greater profile diversity and instantly involve thousands of individuals from different backgrounds and sectors. Each talent brings his or her own skills and expertise to the team: this is how you get advanced and successful solutions.
The O2O hackathon keeps the exciting spirit of the event since the announcement of the final result gathers all the finalists for final pitches and the award ceremony. Don't hesitate and grab this opportunity to organize an inspiring event to put the best projects – and your organization – in the limelight.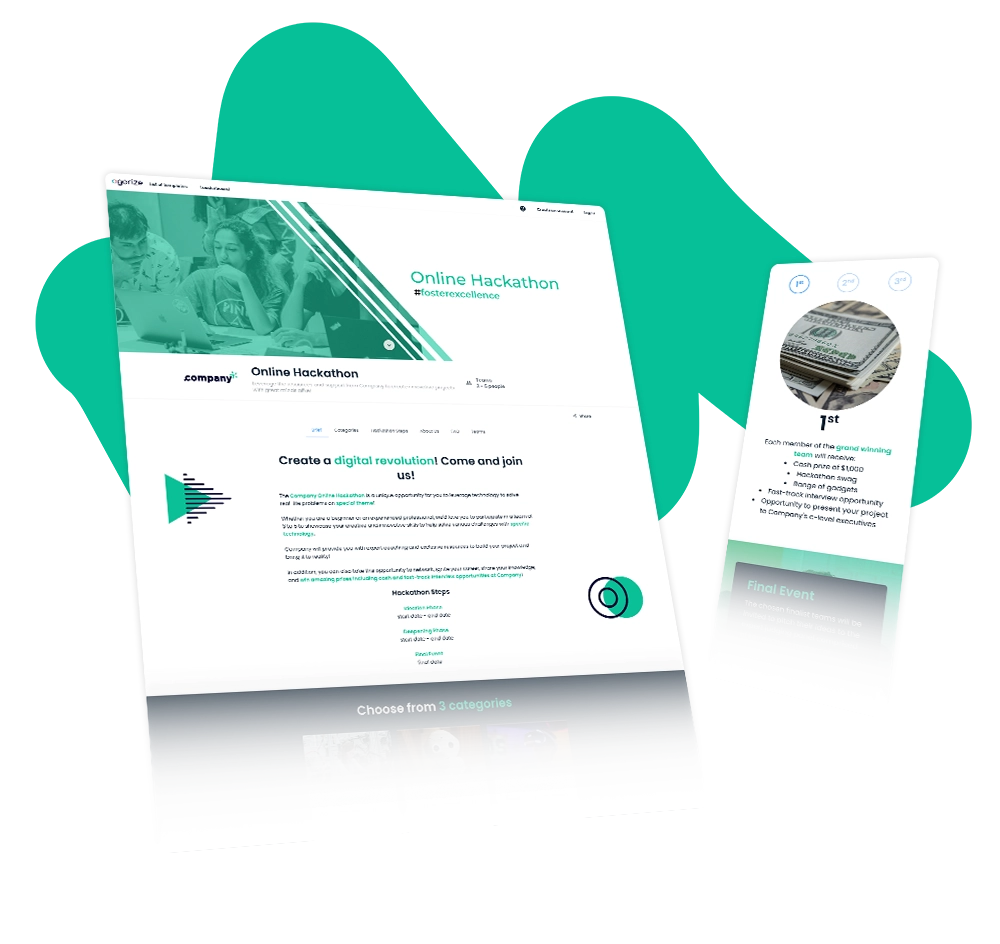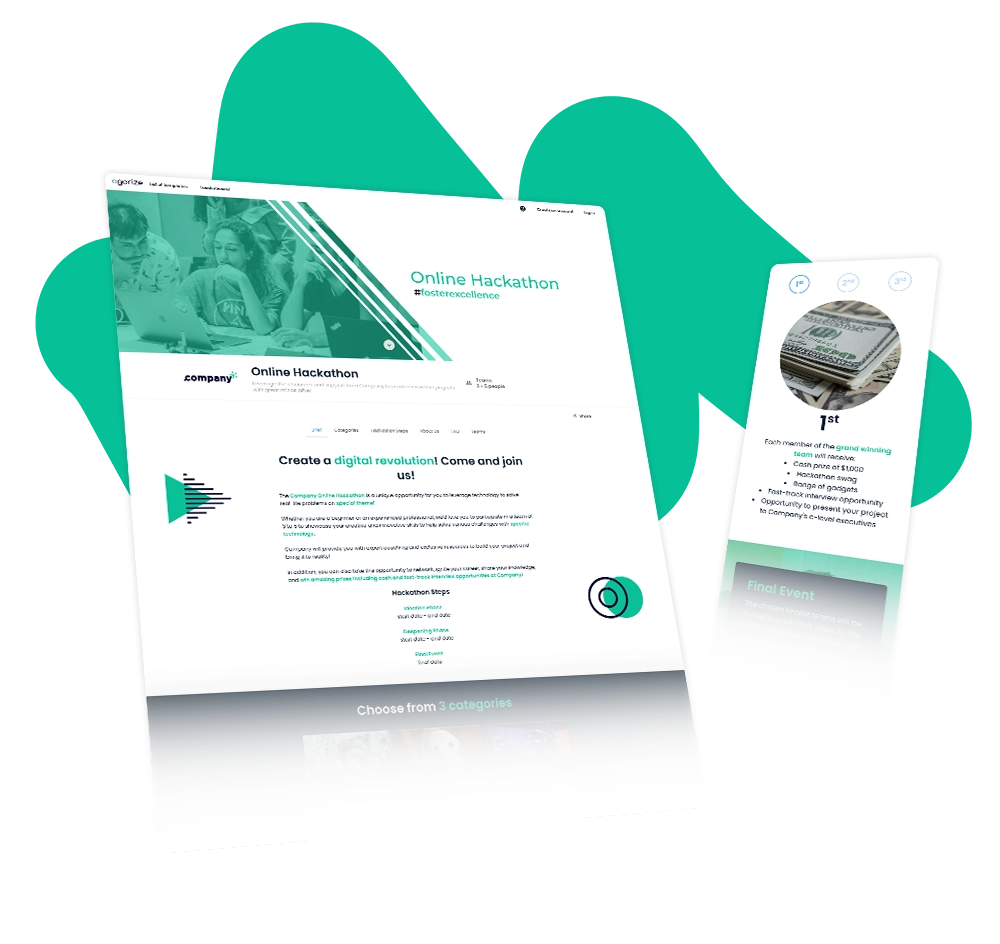 Hackathons made easy
Launch your hackathon with Agorize. Leverage our user-friendly platform to access our community of 1 million developers.
What is Agorize?
Agorize is the most comprehensive innovation management platform, supported by a team of experts and community of innovators. For over a decade, we've been providing technology powered by a community of 5 million innovators to foster change and accelerate innovation. Our clients and partners worldwide crowdsource, evaluate and develop solutions from startups, employees, developers and students using Agorize.
We've helped over 300 global enterprise companies in Europe, North America, and Asia Pacific, including Enterprise Singapore, Huawei, Microsoft, LVMH, PepsiCo, Bayer, Schneider Electric, Hitachi, L'Oréal and many more by running their innovation programs.
What is an innovation challenge?
Innovation challenges are a great way to tap into the creative potential of your employees, startups and students. They're also a great way to get started on new ideas that you might not have been able to develop on your own.

An innovation challenge, or innovation competition, is a competition organized by a company to bring forward innovative solutions. The organizer defines clear objectives and problem statements, after which innovators are invited to submit their ideas and solutions. Proposals can come from startups, employees, students or other talent that is relevant to the topic at hand. Through a process of crowdsourcing and assessing ideas, mentoring participants and developing solutions, the organization will identify the winning proposals that will be implemented. More than 300 enterprise companies have organized innovation challenges with Agorize.
Their results speak for themselves. They've reduced go-to-market time with internal teams, fast-tracked the development of niche solutions with the products and services of startups, created long-term strategic partnerships and brainstormed future-proof ideas with students from top universities. Overall, it accelerated their own transformation and made themselves more future-proof.
What is a hackathon?
The term hackathon is a portmanteau of hacking and marathon. They are events organized to fast-track the ideation and development process of technical solutions like an application or software. They are a valuable tool when done successfully, as they can lead to significant progress in a matter of hours or days. Originally, it was teams of computer programmers, tech project managers and UX designers that would participate.

Nowadays, hackathons have become a term used for a broader range of events aimed at building solutions with others in short period of time. A hackathon is usually presented as a competition. A group of mentors and a jury guide and assess participants, and will award those that executed the assignment best.